mtPaint makes painting easy
Pixelized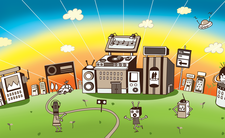 You can create pixel art in just a few mouse clicks with the paint program mtPaint, and it can even teach your works of art how to walk.
Paint programs are not image editing programs. Instead, the software focuses on features involved in drawing. You cannot, therefore, expect that an application like mtPaint [1] will play in the same league as Gimp. A comparison with MyPaint [2] or Krita [3] would be more appropriate. Nevertheless, you will find many features of classic image editing programs in paint programs. mtPaint loads bitmap images, manages up to 1,000 layers, and allows users to adjust an image's brightness and contrast, as desired.
Whereas Krita and MyPaint tend to emulate intuitive painting, as with real pens or brushes, mtPaint's objective is different: It focuses on pixel art. This art form uses raster graphics and, in doing so, deliberately highlights the limited resolution of screens as a stylistic device. The style makes a – partly ironic – reference to the beginnings of video and computer game screen graphics and of the graphical user interfaces used on computers in the 1980s and the early 1990s. Invader, a French street artist [4], is one of the best known artists of this genre.
Mark Tyler, the developer of mtPaint, says his objective was to write a sleek, reliable, fast, but simple-to-operate program – and this is exactly how mtPaint seems from the start (Figure 1). The application's architecture is clearly arranged, and the painting features are spread over several locations. You will find the most frequently required tools in the toolbar. The program places the typical palettes, from which you can take colors, on the left edge of the screen. A quick selection tool for brushes lies above this palette strip (Figure 2).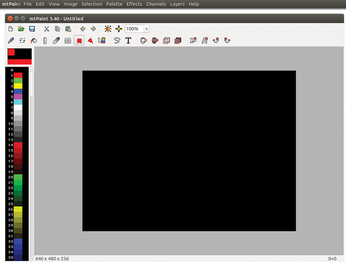 Figure 1: mtPaint appears clear, well-arranged, and tidy.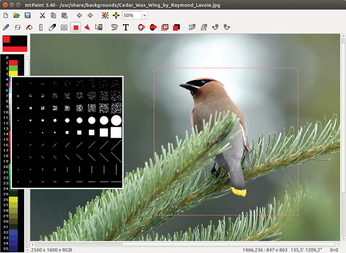 Figure 2: Being able to select suitable brushes is one of the most important features. You can use these to paint on a transparent layer – indicated by the dashed lines in the image.
You can show a dock on the right edge by displaying and editing the layers' properties (F12). Selection of docks and toolbars works by way of keyboard shortcuts, many of which are a little unusual and do not correspond to those usually used by programs (Table 1). Moreover, you currently have no way to change or adjust these settings.
| Keyboard Shortcut | Function | Keyboard Shortcut | Function |
| --- | --- | --- | --- |
| A | Draw arrow (open) | Ctrl+A | Select All |
| E | Choose Color | Ctrl+E | Edit [colors] A & B |
| H | Horizontal Split | Ctrl+G | Grayscale |
| J | Lasso selection | Ctrl+I | Image Information |
| L | Layers Window | Ctrl+M | Flip Horizontally |
| S | Draw arrow (closed) | Ctrl+N | New |
| T | Paste Text (Free Type) | Ctrl+O | Open |
| V | View Window | Ctrl+P | Preferences |
| X | Swap [colors] A & B | Ctrl+Q | Quit mtPaint |
| F2 | Choose Pattern | Ctrl+R | Redo |
| F3 | Choose Brush | Ctrl+S | Save [file] |
| F5 | Show Main Toolbar | Ctrl+T | Outline Selection |
| F6 | Show Tools Toolbar | Ctrl+V | Paste to Center |
| F7 | Show Settings Toolbar | Ctrl+W | Palette Editor |
| F8 | Show Palette | Ctrl+Z | Undo |
| F12 | Show Dock | Ctrl+Shift+C | Transform color |
| | | Ctrl+Shift+I | Invert Color |
| | | Ctrl+Shift+S | Save [layer] |
| | | Ctrl+Shift+V | Paste New Layer |
The menu includes the common functions: You will find options for editing loaded images that are partially hidden in the submenus under Effects. Some special functions (e.g., for drawing arrows) are available for an array of special applications (Figure 3). mtPaint deals with patterns much as it does brushes: You can enable a new variant at any time by pressing F2. A separate tool, whose usage is based on Gimp, is available for gradients, which appear perpendicular to a virtual guide line. mtPaint also supports transparency.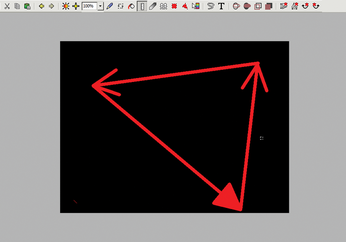 Figure 3: Drawing is a fast process in mtPaint, with special shortcut keys for many objects.
The use of layers and channels are also reminiscent of Gimp, although only a few layer modes are available. mtPaint also resembles Gimp in terms of tools: Much of what is offered by Gimp can be found here in simplified form, but often in a slightly different way, making the transition to mtPaint somewhat difficult. You are likely to need the manual in some places (see the "Install Manual" box) to find and use the desired functions.
The mtPaint package does not include the manual in all distributions, such as Manjaro and Arch Linux. To get it, download the package in ZIP format from the homepage and upzip it. Copy the file into the /usr/share/doc/mtpaint/ folder in the local file tree.
Special Features
One special feature of mtPaint is the option to create animations. However, the program only supports the GIF format, which has been seen as obsolete for a long time, although it is experiencing a renaissance on the web. As with Gimp, you first create the individual images and save them in a folder. With mtPaint, these images must be files; layers are not sufficient.
Choose an Indexed Palette with a maximum of 256 colors as the image type. RGB is disqualified because GIF allows only a limited number of colors. The Export Animated GIF menu item under File then generates a corresponding GIF animation from images in the specified folder.
Conclusions
Working with mtPaint is not entirely intuitive. However, the program offers advantages over its competitors when it comes to the very special needs of pixel art. Finding functions and understanding their principles can be difficult without using the manual – which is also available online [5]. The special way of working in mtPaint is not suitable for most graphic projects, but the program cuts a fine figure in its specific discipline.
comments powered by

Disqus