NEWS
NEWS
Updates on technologies, trends, and tools
Inventor of Email Dies
Ray Tomlinson, inventor of the global communication technique known as email, has died at the age of 74. The cause of death is not confirmed at this writing, but early reports suggest a heart attack. Tomlinson was born in Amsterdam, New York, in 1941 and attended Rensselaer Polytechnic University, graduating with a degree in electrical engineering in 1963. He earned a Masters degree from MIT in 1965.
Tomlinson invented email in 1971 while working at the research and development company Bolt, Beranek, and Newman (now BBN, a subsidiary of Raytheon) on supporting software for ARPANET, the predecessor of the Internet. He adapted a program called SNDMSG, which was intended to send messages to terminal users of a single time-sharing system, so it could send messages to other computers. Tomlinson chose the @ symbol as a handy indicator that would target the message to a single user of the destination machine.
When asked why he took the time in the middle of another project to develop the program for email, Tomlinson reported "because it seemed like a neat idea." After showing the new system to a colleague, he famously warned, "Don't tell anyone! This isn't what we're supposed to be working on."
According the entry in Wikipedia, Tomlinson preferred "email" over "e-mail," stating in a 2010 interview, "I'm simply trying to preserve the world's supply of hyphens."
Microsoft Announces Linux Version of SQL Server
Microsoft has announced that it is creating a Linux version of its SQL Server database server tool. SQL Server has long been a core component of the Windows Server ecosystem, and the strange appearance of a Linux version underscores how far Microsoft has come in recent years to embrace the possibilities of Linux.
According to Microsoft VP Al Gillen, "This is an enormously important decision for Microsoft, allowing it to offer its well known and trusted database to an expanded set of customers. By taking this key product to Linux, Microsoft is proving its commitment to being a cross platform solution provider."
Of course, Microsoft doesn't do anything for free or for fun. The prevalence of Linux systems running in the cloud, including Microsoft's own Azure cloud, further confirms that Linux is here to stay. By porting SQL Server to the Linux platform, Microsoft can continue to exert an influence over SQL database systems, even as the underlying OS migrates to Linux.
The private preview version of SQL Server on Linux is available now, and Microsoft is aiming to have a release version ready by mid-2017.
Strange New Attack Lets an Intruder GainAccess Through a Mouse Dongle
Researchers at Bastille Networks have discovered a flaw in some keyboard and mouse dongles that could allow an attacker located within 100 meters of the computer to execute commands on the system through the dongle. The computer receives the commands as if they were typed by the user sitting at the system.
The "Mousejack" attack capitalizes on a gap in the security of non-Bluetooth mice and keyboards from seven different vendors that use Logitech's Unifying wireless USB technology. According to Bastille, "Once paired, the Mousejack operator can insert keystrokes or malicious code with the full privileges of the PC owner and infiltrate networks to access sensitive data. The attack is at the keyboard level, therefore PCs, Macs, and Linux machines using wireless dongles can all be victims."
The Bastille Networks website has a dramatic video (https://www.bastille.net/) showing how the attack works. See the article at the Threatpost site for additional information: https://threatpost.com/mousejack-attacks-abuse-vulnerable-wireless-keyboard-mouse-dongles/116402/.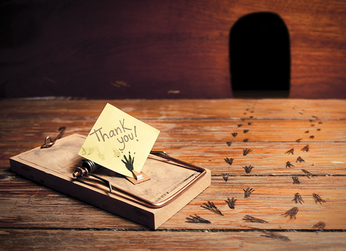 comments powered by

Disqus