Self-organization with Getting Things Gnome
Projects
Tasks that you want to complete yourself, and that take more than two minutes, are referred to as projects in GTD. Such projects are typically broken down into individual tasks.
First, create a new task for the overall project in the usual way by pressing Ctrl+N. If you want to write an article for a professional journal, the title could be Write article. The following tags seem appropriate: @projects @article. The completion date is the editorial deadline. Enter the individual sub-tasks line by line with a leading dash; for example: -1. Literature research, -2. Get literature, -3. Read literature, -4. Write draft, -5. Send draft to editor, -6. Incorporate editorial changes, -7. Send finished article to editor.
GTG creates its own sub-entry for each part of the task and also creates a corresponding link in the main entry's window. In the main window, the entries are shown indented under the main entry. To keep track, it is useful to enumerate the tasks in the order in which you want to complete them.
In the sub-tasks, you can save notes for each step, for example, a list of the literature you want to read. As usual, you also have the option of entering tags. After sending a draft of your article to the editor, you can to add the @wait tag to the corresponding sub-item.
You need to assign start dates and due dates for sub-tasks. In this way, you can keep track of which sub-task is pending; of course, the due date for a sub-task must be no later than the due date for the project. After you complete a sub-task, right click on it and select Mark as Done from the menu.
Regular Processing
To see which tasks are currently pending, you need to work through GTG regularly as part of your daily routine. In the main window, click the Work View button. Pressing the button changes the view of the main window (Figure 2). GTG only displays those tasks that you need to complete. They include tasks that either have no start date or whose start date has already been reached. If required, you can filter this list for keywords.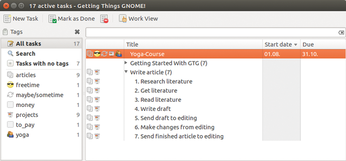 Figure 2: A plugin automatically highlights GTG tasks according to their urgency.
For example, if you are heading into town for shopping, you can display all items with the keyword @shopping, so that you are sure to complete all your pending purchases in a single visit. You can then highlight any completed tasks, and they will disappear from the list.
Simplification
Various plugins add functionality to GTG. To view and enable any available plugins, select Edit | Plugins. You'll find plugins that let you automatically delete highlighted tasks, color-code tasks for easy recognition of urgency, and more.
Use the Tomboy/Gnote plugin to sync tasks between GTG and the Gnote or Tomboy note-taking tools (Figure 3). First enable the plugin, and then enable synchronization using Edit | Synchronization Services. A new menu appears bottom left; now click on Add.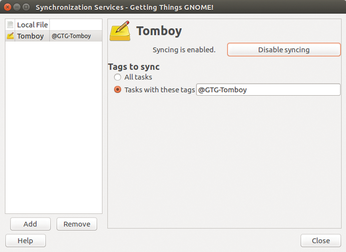 Figure 3: GTG lets you synchronize tasks with other programs, here with the notebook software Tomboy.
Then select the program with which you want to sync tasks and notes (for example, Tomboy) and confirm by pressing OK. You just need to decide whether GTG should synchronize all tasks and notes or just those that contain a specific keyword, say @GTG-Tomboy. Click on Enable Synchronization and Close to complete the synchronization.
comments powered by

Disqus