FOSSPicks
Spam filtering
Rspamd 1.6.0
I covered an earlier version of this brilliant competitor to SpamAssassin before, but it's worth revisiting for two reasons. The first is that the pace of its development has been phenomenal, with the release of 1.6.0 being the pinnacle of 12 months of continued development. The second is that more people need to hear about Rspamd because, although SpamAssassin is brilliant and doing a wonderful job for thousands of people, it's always good to have a viable alternative. And, Rspamd is just that. It's a spam zapper that cuts out the cruft without taxing your CPU.
Updates over the past year have made huge improvements to its spam identification. For me, it correctly bounces around 95 percent of all the spam I receive, and that's probably 10 percent better than when I was running SpamAssassin. Rspamd can even use your SA filters, and it has the same Bayesian learning capabilities, which means spam you mark as junk is quickly assimilated by the recognition algorithms. It's also a lot less resource intensive than SpamAssassin and lives quite happily on a cheap low-end box hosted somewhere in the back of beyond. Version 1.6.0 made some big changes in the back end, mostly by removing the custom delivery agent, but the upgrade wasn't difficult. If you're already running a standard Postfix mail server, then installing Rspamd 1.6.0 is going to be easier than installing earlier versions, as you can miss out on a couple of important steps, but good configuration still takes time and patience – just like with SpamAssassin. Mostly, configuration files are migrated without your having to touch anything, and you get a quick and powerful spam filter for your own email. Combine this with something like Sieve on IMAP and your spam filtering can be almost as automatic and as good as Google's, only without the huge infringement on your privacy.
Project Website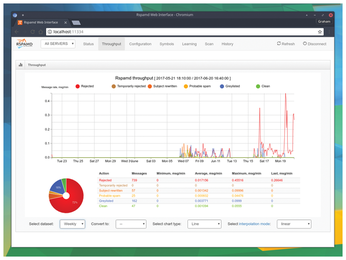 The web interface offers a fascinating insight into what spam is hitting your system and how it's dealt with.
Screen control
comments powered by

Disqus