FOSSPicks
RSS reader
Raven
Each time we cover an RSS reader, we briefly explain what RSS is and why it's so important. This is because it always feels like we're looking at the last RSS reader to be made and that RSS is on the cusp of disappearing forever. But if the constant stream of new RSS applications is anything to go by, we don't have to worry. And this application, Raven, is further evidence that RSS is going through something of a renaissance. It may be Electron-based, and cross-platform, but its simple design and function makes this a perfect tool if you're new to RSS readers, especially if you're new and need a solution for other operating systems, too.
The main view is very similar to the old Google Reader. It's split into three horizontal columns; the first allows you to add and manage your various RSS subscriptions. For example, you can mark a source as a favorite, save stories for later, and import or export a complete set of feeds via an OPML file. This is very useful if you're still hanging on to those old collections exported from Google Reader. The middle column is the headline of the story from the RSS itself, while the final column is the downloaded or cached story linked to from the selected title. It's impressively clean and easy to navigate. The options to save, favorite, or open in a browser are perfect for most usage, and there's support for offline reading. The dark mode is also very useful for late night reading or if your desktop theme uses dark colors. This great UI design is going to be a real advantage for users new to RSS, as the RSS itself remains almost transparent with only the downloaded content being shown in the main window, rather than the sometimes too brief sentences contained within the RSS itself.
Project Website
https://github.com/mrgodhani/raven-reader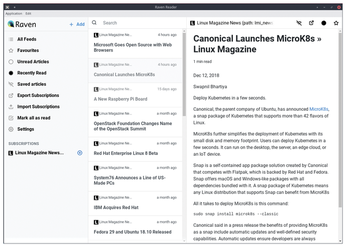 If you've been looking for a modern, well-designed application for making sense of the web, Raven is a great choice.
CLI file manager
comments powered by

Disqus