FOSSPicks
Text editor
Mark Text
That there are so many text editors designed to work exclusively with Markdown says a lot about the continued and still growing popularity of Markdown. It also says a lot about Markdown's disparate usage and syntax when there are so many ways of editing and publishing with it. Mark Text, however, is one of the best Markdown editors we've used, and it makes up for Markdown's shortcomings by playing to its advantages – it's a quick, minimal, and expressive way of writing documentation, from blog posts to complete reference guides.
The best thing about Mark Text is that, by default, it just gets out of your way. It opens with a blank page, and you can start writing immediately. Even without engaging the Distraction Free mode, which highlights only the paragraph you're working on, there's very little window decoration. All of Mark Text's considerable configurability is hidden behind the hamburger menu in the top-left corner. You don't even need to use this if you don't want to. As you write Markdown syntax words, the editor silently replaces them with the final output rendered equivalent. Headings, lists, comments, and blocks of code are beautifully colored and can be easily changed by selecting one of the equally attractive light or dark themes. Select a paragraph you've written, and a discrete symbol can be used to transform your words into a heading, a math formula, or a code block. Word, character, and paragraph totals update in real time and are shown next to the hamburger menu, which is all the information most writers need. But you can also open the side panel to show the outline and even enable the Source Code mode to disable the automatic output rendering. It's brilliant and beautiful, and it makes you want to write.
Project Website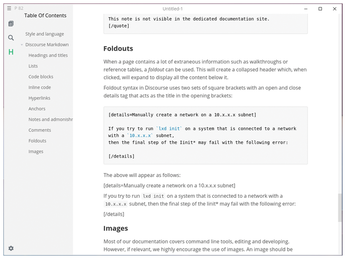 Despite its apparent simplicity, Mark Text contains advanced features like image upload, quote completion, and text direction modification.
Task monitor
comments powered by

Disqus