Simplifying file management with GNU Stow
Safely Stowed Away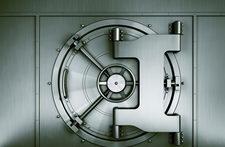 Stow helps you manage custom configuration files across multiple users and computers, as well as organize your dotfiles.
When it comes to file management, keeping chaos in check is highly recommended. Stow [1], a lesser-known GNU file management tool, functions as a symlink farm manager that organizes various sets of software or data located in separate directories on the filesystem, making them appear to be installed in a single directory tree.
Stow was originally created to manage software compiled on the system, which typically ends up in the subdirectories of /usr/local/. Stow is often used to install software globally across the system, but it also provides a clear-cut mechanism for managing configuration files and scripts in these installation's home directories. Stow can be considered the GNU project's official solution to keeping custom configuration files separate and distributing them to other systems.
When it comes to managing custom-compiled software, the software often does not come with an uninstall target in the makefile or a similar mechanism to get rid of it when needed. As a result, this can lead to a time-consuming manual uninstall. For instance, you would need to use whereis <software> to find out which subdirectories the software in question has been distributed to and then remove the files in each directory with rm -rf. Stow can simplify this process.
Three Steps and a Prefix
Stow creates a separate directory named stow/ below /usr/local/ during the installation. You specify this when compiling an application in the first step of the typical three-step installation of the software below /usr/local/stow/. Listing 1 shows you what the command looks like.
Often CMake is used in the first step. With --prefix as an additional instruction, all the software now ends up in stow/<software>.<version>. To convert it to the directory structure provided for by the Filesystem Hierarchy Standard (FHS) [2], type
cd /usr/local/stow/
to change to the stow directory, and trigger the creation of the symlinks to /usr/local/ with stow <software>.
If you want to completely remove the software later on, all you need to do is type
stow -D <Software>
followed by
rm -rf <software>.<version>
After a package update, you can update the symlinks with --restow.
In my lab, I used the sources of the recently published cURL 7.66.0 as an example. The software is installed using the commands from Listing 2. After this, the /usr/local/stow/curl-7.66.0 directories are located in the bin/, include/, lib/, and share/ directories. If the prefix had not specified ../stow/curl-7.66.0/ as the installation location, the makefile would have distributed the program to these folders.
Symlink Redirection
To spoof the locations the system expects (Figure 1), you need to create symlinks from the /usr/local/stow/ directory with:
stow curl-7.66.0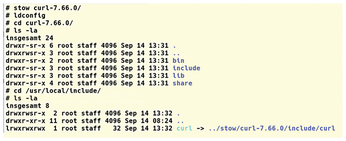 Figure 1: By installing the application in its own directory, Stow isolates the data from the system. It then adds symlinks in the directories to which the software is usually distributed.
Follow this up with ldconfig to register new libraries with the system. If you now run ls -la in /usr/local/include, you will see the symlink to:
curl -> ../stow/curl-7.66.0/include/curl
The same applies to the other directories.
By installing software to a single directory and achieving FHS compliance through symlinks to the system, Stow resembles distributions such as NixOS or GoboLinux, which have long used a similar approach as a general solution for managing software.
Managing Dotfiles
Today, software is mainly installed using the package manager or it enters the system in the form of Flatpaks and Snaps. Over time, Stow has extended its application beyond its original purpose. This is reflected in the way the helper is implemented as a Perl script. In 2013, Stow's man page called the tool a "Software Package Installation Manager," while today it describes itself as a "Symlink Farm Manager" that offers extended application options for private use.
One extended application option includes managing dotfiles (the hidden configuration files in an installation's home directory called dotfiles because of the dot in front of their name). If you want to use these files or a collection of scripts that you use repeatedly on several computers, Stow can help.
One good example of this is the .bashrc file. This configuration file goes into action every time you open a terminal. Among other things, it contains useful entries, such as the aliases you created for frequently used command sequences or instructions for a custom prompt display. My .bashrc file has been in use for well over a decade, and I include it in every new installation.
comments powered by

Disqus