Programming with Python Turtle graphics
Turtles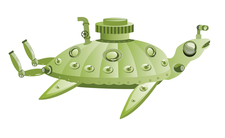 Create a bulb and tube analog thermometer with a Raspberry Pi and Python Turtle graphics.
Turtle graphics are a great way to get kids started programming. The Python turtle library offers simple step-by-step graphical methods that allow young programmers to create graphics with only a few lines of code.
I found that once my kids understood Turtle basics, we were able to do more advanced Raspberry Pi projects that used sensors, push buttons, and outputs. In this article, I share a Rasp Pi Turtle project that creates a graphic of an "old style" mercury thermometer animated with a Pi temperature sensor.
Getting Started
The Python turtle library is probably already loaded on your Raspberry Pi system, but if it is not, enter:
pip install turtles
The turtle library [1] is used a little bit as you would use a pen on a drawing board. With the use of methods (e.g., forward(), backward(), left(), and right()), you can draw lines. If you want to move a turtle without drawing a line, you use the penup() method; then, once you arrive at the desired location, the pendown() method lets you start drawing again. Turtle objects have properties for color and line thickness and a number of additional methods for shapes, fill, circles, and text.
To create a turtle object, you use the myturtle = Turtle() statement. A new turtle is placed at the center of the screen, position (0,0), facing right.
The Python Turtle example in Listing 1 shows three basic concepts I use in this project: drawing lines, moving without drawing, and adding text (Figure 1).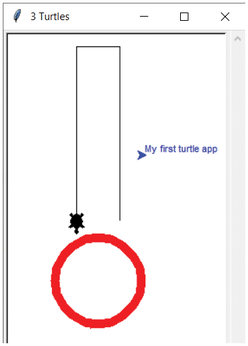 Figure 1: Three Python Turtle graphics.
To draw t1, named turtle (line 7), the turtle (pen) rotates 90 degrees left to face toward the top of the drawing area (line 9). With a combination of left and forward methods, turtle t1 becomes an open rectangle (lines 9-14).
The t2 shape is red and drawn with a thick pen size (lines 18-20). The up() method makes sure the pen does not draw while it moves (line 21-22). After reaching the new position, the pen goes back down to draw a circle (lines 23-24). The pen for turtle t3 goes to a new position without drawing a line and writes some text on the screen (line 27-31).
Once you (or your young programmer) have mastered drawing lines, moving without drawing, and adding text, you can start some more interesting projects.
Drawing a Thermometer
For this project, I wanted to draw an "old style" mercury thermometer with a bulb of red mercury at the bottom and a tube above it (Figure 2).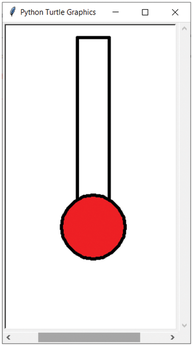 Figure 2: Thermometer background.
Simple turtle commands like move, left, right, and forward are great for drawing simple graphics, but they can be awkward if you want to create a more complex drawing. A more efficient approach is to define an array of (x, y) coordinates and move to each position in the array. For example, the upper tube can be drawn with:
# An array of coordinates for the tube
outline = ((25,-50),(25,210),(-25,210),(-25,-50))
for pos in outline: # move to each tube x,y point
   t1.goto(pos)
To draw the lower "mercury" bulb in this project, I enhance the circle of my first example, turtle t2, by creating a black circle with red fill. The fill is toggled with the begin_fill()/end_fill() methods:
# put the pen up and move to the circle starting point
t2.penup()
t2.goto(0,-137)
t2.pendown()
t2.pensize(5)
t2.color("black","red")
# draw the circle with fill
t2.begin_fill()
t2.circle(50)
t2.end_fill()
At this point, I've created a static background for the thermometer. The next step is to read a temperature value from the Raspberry Pi and add dynamic information to the drawing.
Hardware Setup
A number of different temperature sensors can be used for this project. Here, I use a low-cost ($5) DHT11 temperature/humidity sensor [2]. This sensor has three pins, (signal, 5V, and GND; Figure 3). The signal pin connects to Rasp Pi physical pin 7 (PP7). The program in Listing 2 tests the DHT11 sensor. Note that because the sensor can return a humidity value, you could add that information in your Turtle code, as well (line 12).
Figure 3: Fritzing diagram of DHT11 wiring to the Rasp Pi; the blue wire is signal (PP7), the red wire is 5V power (PP2), and the black wire is ground (GND, PP6).
To install the DHT temperature sensor Python library [3], enter:
sudo pip install Adafruit_DHT
When I'm doing Pi projects with my kids, I like to use prototyping expansion tops (Figure 4). These tops start at around $6 [4]. Not only do they make the wiring cleaner, it's a lot easier to move the projects around for testing.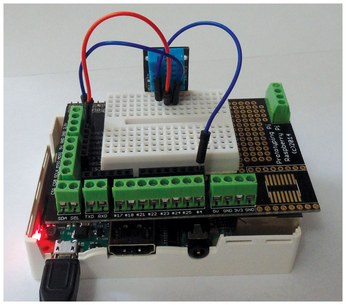 Figure 4: DHT11 wiring to the Rasp Pi through a prototyping board.
comments powered by

Disqus