FOSSPicks
Audio testing
signal-estimator
When you work with audio, whether for a recording or to engage in real-time chat, it's often difficult to answer the simplest questions: How will this sound? Why is there a delay? That's because there are two stages in this process, and it's not always clear what impact one can have on the other. Stage one is the analog to digital conversion (ADC). This is what takes your raw audio and turns it into something your computer can work with. The second stage does the opposite, transforming the digital audio on your computer to a sound you can actually hear – digital to analog conversion (DAC). These two stages are familiar to us all, but they still involve a tricky balancing act, and their performance can be difficult to measure without either special equipment or great effort.
The signal-estimator tool aims to make all this easier. It's a simple tool that's been designed to send a signal to an output that's directly connected to an input, a so-called loopback. This gives it complete control and oversight over your audio signal chain, allowing it to measure both outgoing and incoming delays (latency) and quality. Quality is measured with both a glitch detection algorithm and an algorithm that detects signal loss. It also allows you to measure latency on external equipment, which is important when considering the precise timing of a performance. With the audio connection defined from the command, and the mode selected, signal-estimator will continuously output either the latency or the signal loss measurement, allowing you to change the physical connection or connect more to the signal chain to see, rather than hear, what the effect might be.
Project Website
https://github.com/gavv/signal-estimator/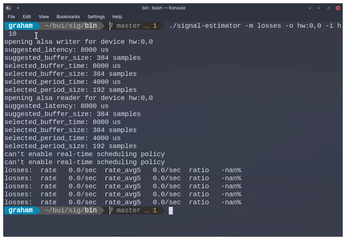 Check whether your Bluetooth audio is adding more delay than your USB audio.
File navigation
comments powered by

Disqus