FOSSPicks
Puzzle platformer
VVVVVV
While nearly everything we look at here is, and should be, FOSS (i.e., open source, as defined and hosted by the Open Source Initiative), this game is not. Its source code has been released under a "personal use only" and "does not include media assets" license, which is something we wouldn't normally want to encourage. However, 10 years after its initial proprietary, trailblazing, and award-winning commercial release, VVVVVV is still a brilliant and important game. It's a retro-puzzle-platformer heavily inspired by the impossible platformers of the 1980s. The six Vs in its title represent the initials of six scientists who are missing within the vaults of a huge cave system. You play as one of these Vs, Viridian, so you need to track down the other five. You move left and right and jump to get across the 2D screens, and jumping can also switch you to the ceiling or the reverse side of platforms to help you navigate the 400 rooms and increasingly complex levels. You die a lot, but there are often multiple respawn points on each level.
Its visuals look like something you might have played on a 48KB Spectrum, while its audio is just about on-par with an Atari 800XL. Each screen has a name, reminiscent of Jet Set Willy, and the whole effect is fantastic. While there's obviously a strong appeal to nostalgia, the game itself works as a modern puzzler, very much in keeping with the indie game development scene, where you die often and make progress slowly, all the while getting more hooked on the gameplay. And that's what makes the release of its source code important, even if it's not open source. Game development is hard, and finding gameplay examples from successful releases that you can study is almost impossible – or was, until the release of VVVVVV.
Project Website
https://github.com/TerryCavanagh/VVVVVV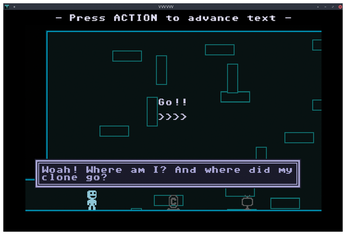 It's not quite open source, but the source code to VVVVVV is now freely available for personal use, and most importantly, freely available to study.
First person shooter
comments powered by

Disqus