A convenient SSH GUI
Additional Functions
As you may have noticed, the bar on the left edge fills up with several tabs after connecting. In addition to the standard Files tab, which contains the file manager among other things, the Terminal, System Monitor, Disk Space Analyzer, Active Transfers, Linux Tools, SSH Keys, and Network Tools tabs appear here. Some of them have additional subsections.
You can use a terminal opened on the server in the same way as you would use it on your client. If necessary, you can connect to other servers from there.
The System Monitor tab (Figure 5) offers a graphical display of the CPU and RAM utilization and also lists all running processes on another tab. A button at the bottom lets you terminate processes directly in this view.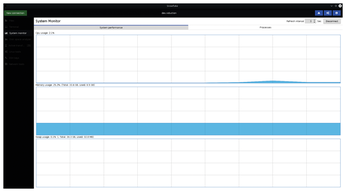 Figure 5: The System Monitor tab shows the CPU and RAM utilization at a glance. Another tab shows the load caused by individual processes.
The Disk Space Analyzer shows the occupancy of the file system; alternatively you can analyze individual directories. In Active Transfers you can see the current data transfers from or to the server. Linux Tools takes you to three tabs for system information, system services, and processes listening on ports (Figure 6).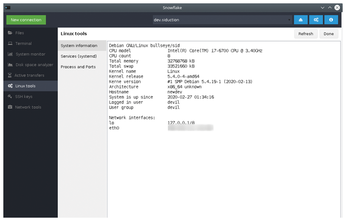 Figure 6: The Linux Tools tab displays processes and their ports, a list of system services, and other information about the system, hardware, kernel, and operating system.
The SSH Keys tab shows you the keys on the server as well as on the client and lets you create new keys and move a public key to the server. Network Tools takes you to tools such as Ping, Port Check, Traceroute, and tools for DNS lookups.
Conclusions
Once you have freed yourself from the dogma that server management has to take place in the terminal, Snowflake SSH proves to be an extremely useful tool. The software combines so many tools under a single interface that the usual argument that a GUI is slower than working in a terminal does not apply here. The developer's to-do list [3] includes, among other things, integrating a plugin system and support for Mosh [4].
The program doesn't really need any documentation, since almost all functions are intuitively accessible. The developer explains many features on the DEV developer community page [5]. Although Snowflake is only four months old, its agile development still promises some wizardry for the future.
comments powered by

Disqus