FOSSPicks
Music tracker
Radium 6
On Linux, we don't quite have the professional digital audio workstation equivalents to Cubase and Logic Pro, but we are getting very close with Ardour, Bitwig, and REAPER, as well as with a plethora of unique smaller projects, such as Renoise, LMMS, and Radium. We looked at Radium several years ago, back in its 4.x incarnation; it's fantastic to see it still being so actively developed. This success could be down to the way the project subsists, which is similar to Ardour. It's an open source project and freely buildable from source, but the convenience of Radium's binary downloads hides behind a paywall, and paying will obviously help fund the continued development of a project. This is definitely worth it, because Radium is a wonderful hybrid of old-school tracker, modern audio workstation, and modular synthesizer that can give you a totally unique perspective on how to make music.
Literally hundreds of features have been added to Radium in recent years. The user interface has been overhauled to improve menus and pop-ups; there's high DPI support, keyboard focus, and theming; and there's a brilliant suite of over 100 LADSPA effects, including ones that produce granular clouds of samples. There are audio meters everywhere, showing the audio path between your tracks, effects, busses, and outputs. The traditional tracker modulation parameters animate the audio waveform shapes. There's a comprehensive API with access from Python and Scheme and even an embedded version of Pure Data for the ultimate in open source audio manipulation. The sound still starts in the tracker-like view on the left where notes and audio automation are entered, passes through the piano roll note sequencer or audio editor at the bottom, and goes through to the effects, VST and other plugins, on to the Jack-hosted output. The output is frame-accurate and can synchronize to other audio applications like Ardour and Bitwig. It's quick, creative, productive, and quite unlike working with any other audio application.
Project Website
https://users.notam02.no/~kjetism/radium/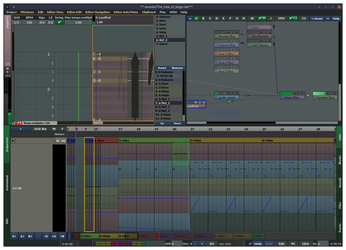 Radium started life as a unique tracker application for the Amiga back in 1999.
Data explorer
comments powered by

Disqus