FOSSPicks
Circuit simulator
SimulIDE
It seems we can't go a month without stumbling on another new or rebooted circuit-building tool. We recently looked at KTechLab, for instance, and several more in the months before that. This time it's the turn of SimulIDE, a modest and relatively easy-to-use application that can help you build and test your own circuits. Despite being built with a modern Qt version, SimulIDE has a distinctly mid-'80s Macintosh feel to its user interface. There are two reasons for this. The first is that the huge set of monochrome icons on the left shares a similar aesthetic with those early applications. The icons themselves represent the various components, generators, and annotations you can use in your own circuits, all of which are fortunately more modern than Aldus PageMaker. The second reason for this retro vibe is the grid-type background to the right. This is where you drag and connect your components into a circuit.
One of the best things about SimulIDE is that there's a set of integrated tutorials to help you get started, not just with the application, but with designing your own circuits. These tutorials guide you through the GUI and which components are available, as well as connecting them up and testing whether they work. As with KTechLab, this is the best part, because SimulIDE lets you simulate the circuit, complete with currents, meter readings, and working components. This even extends to microcontrollers like the Arduino and components like screens that require firmware. Common open source versions of the firmware are included, and you can view the hexadecimal data for these files in the viewer on the right. One of the best examples puts this all together into a working Arduino circuit, complete with buttons, resistors, and a screen, as well as the Arduino code to play the famous snake game, which itself runs on the simulator. It's brilliant and a lot less messy than doing it yourself.
Project Website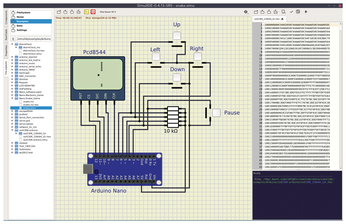 SimulIDE helps you build your own circuits and emulates what happens when they have power, including AVR and PIC simulation courtesy of simavr and gpsim respectively.
Shell upgrades
comments powered by

Disqus