FOSSPicks
FOSSPicks
This month Graham looks at MScSim, Ticker, vizex, and more!
Flight simulator
MScSim
The clue to the seriousness of this flight simulator is in its name, "MScSim." The developer is also responsible for an earlier project called "BScAero," and we can only assume these projects represent milestones in the developer's ongoing education from "Bachelor of Science" to "Master of Science." This is backed up by a mathematically intense document that accompanies MScSim entitled "Flight Dynamics Model for the Real-Time Flight Simulation" (itself released under a Creative Commons Public Domain license). The paper is difficult to understand without some prior insight into how flying works, but it does presumably illustrate how accurate the flight model in the simulator is. If you want to learn how to fly, this might just be the application.
MScSim isn't a game, but rather an accurate simulator of the flight dynamics model described in the paper, using real wind tunnel data for aircraft types including various helicopters, the humble Cessna 172, and the not so humble F-16 and F-35A jet fighters. But the simulator is also approachable and usable by anyone, thanks to its accessible application window and beautiful graphics. By default, for example, the simulator places you in a helicopter in the middle of an airport complex. Also, despite the many detailed panels that can be opened, it is still possible to simply try your hand at flying without the study. Just ramp up on the throttle and see how far you can go. Controls default to using your keyboard, but you can easily switch to a physical controller from the Preferences menu where you can freely assign functions to keys and buttons.
For the proper simulator experience, you need to spend some time opening the windows you're going to find most useful, because there are panels for everything. The amount of data they expose is intimidating, from a set of buttons to control the simulation state to the angle, pitch, and velocity values for how your craft is careering through the air. There are also the traditional flight control widgets (available as a separate open source project), feedback for controller input, and a top-down map of the airport. Each aircraft shares a standard heads-up display and the same autopilot, which works much like hardware in a real aircraft.
What's most surprising is that the view outside the Qt-panel festooned cockpit is far better than you might expect from an academic training tool. The package includes a significant chunk of photorealistic scenery taken from aerial imagery of Oahu Island, Hawaii, as well as low resolution scenery of the entire world! It's not Microsoft Flight Simulator, but neither is it a 150GB download. The entire package is less than 1GB, and the island view still looks amazing as you hover or fly across its mountains and coves. MScSim is obviously not a game, and it is going to be of most use to people learning about flight mechanics, instruments, and control as part of their flight training, but it's also fun. The other great open source flight simulator project, FlightGear, is more accessible, but there's a different challenge in trying to take off and land within such a strict flight model. Additionally, MScSim is obviously far more accessible, both in terms of cost and environmental damage, than flying in real life.
Project Website
https://github.com/marek-cel/mscsim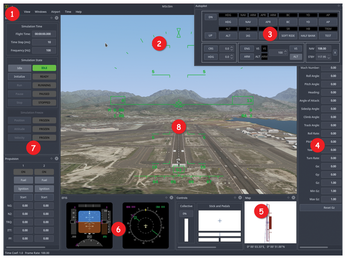 1. Save your flight: Rerun and re-analyze a flight for further study. 2. Heads-up display (HUD): The nine aircraft in MScSim share the same standard HUD. 3. Autopilot: Learn how to navigate, take off, and land. 4. Data everywhere: The flight model produces very realistic results that can be studied in the data output. 5. Map: See where you're going before you get there. 6. Instruments: These lovingly crafted instruments are also available as Qt widgets outside the main project. 7. Simulation control: Stop, start, and pause the simulator. 8. 3D view: See realistic scenery when you explore the island of Oahu, or get a less-detailed look at the entire planet, all complete with clouds and changing weather systems.
Stock watcher
comments powered by

Disqus