FOSSPicks
Remote control
Barrier
Many years ago, when computers were big and heavy and their screens were bigger and heavier, you might have had more than one machine, and if you did, you really wanted to avoid having more than one screen. The best solution for this was a KVM switch – not to be confused with the now more commonly used acronym for kernel virtual machines. A KVM switch connected a single keyboard, a single video device, and a single mouse to one or more machines, with a physical or software-controlled switch that was used to flip between controlling any of the connected machines. It saved space and time. But there was another clever solution that needed no clunky hardware, and that was a piece of software called Synergy. With Synergy, one machine would act as a server, and other machines would act as its clients. The server was physically connected to the keyboard and mouse, and Synergy would handle the protocol that would send keyboard and mouse input to numerous connected clients. The client software would reinterpret these controls on the local machine, with video handled with something like VNC or a separate monitor input.
The Synergy project became Symless, which is now a proprietary product offering supported versions with the same functionality. But open source packages of the older version are still available, and Synergy 1.x has been forked into a project called Barrier that continues to be developed and aims to solve many of the issues that were still affecting the older project. While Barrier does break compatibility with the older version, it does exactly what the old Synergy did, letting clients be controlled by the keyboard and mouse on a server, and it works across operating systems. Other operating systems include Windows and macOS and even unofficially the ancient Amiga, so it's ideal for controlling other machines from your Linux or OpenBSD box, or even vice versa, and it works perfectly.
Project Website
https://github.com/debauchee/barrier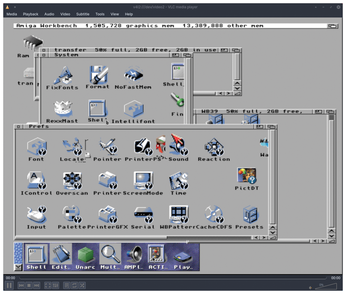 You can't see it, but this is an Amiga desktop (running Workbench) being controlled by a mouse and keyboard on a Linux machine and viewed via an HDMI-to-USB adapter.
Author IDE
comments powered by

Disqus