Where Business and Aesthetics Meet
Distro Walk: elementary OS
In the past decade, elementary OS has grown from open source project to a company with a unique business model.
Elementary OS was first released in March 2011 during a time when KDE, Gnome, and Ubuntu were radically redesigning their desktops. From the start, elementary OS added to the mix, introducing a clean design that was soon widely compared favorably to macOS. Today, elementary OS continues to thrive, advertising itself on the project's home page as "the fast, open, and privacy-respecting replacement for Windows and macOS." Recently, Daniel Foré, an elementary OS founder, discussed how the distribution has developed in the last decade.
Foré got his start in open source by working on pet projects including customizing his own computer. "As the number of things I was involved in grew and as I began the share them," Foré says, "there was this natural need to distribute these things as some kind of collected work. So we really made elementary OS as a way to put together all the apps and design work we had done into something we could easily share."
Even though the first release was based on Gnome, elementary OS attracted immediate attention. However, it was not until the second release in 2013 that Foré feels that the project began coming into its own: "It was the first release featuring our [own] desktop, Pantheon, instead of Gnome, and where we had a proper build system in place instead of chrooting into an Ubuntu ISO."
In 2015, the project took on another new direction by becoming a business. "I remember having a conversation with my boss at my day job," Foré says. "And he just said, 'Why are you still working here? Go and do your thing'." So Foré did, incorporating elementary OS as a business and introducing a pay-what-you-want download system. Despite the fact that free downloads are still available, the payment system continues to attract criticism. But Foré responds that "elementary, Inc. isn't a nonprofit organization, and we don't ever advertise paying as some kind of charitable donation. We make a product and we sell it, the same as any other business. We think pay-what-you want is a really fair and ethnical business model, and we don't see it as controversial at all. If we didn't sell elementary OS any more, we would go out of business."
Since then, elementary OS has found other sources of revenue, including GitHub Sponsors and an early access program. "The revenue that Early Access is bringing in right now through GitHub Sponsors is more than double what Patreon has ever brought in," Foré says. "I think it's really going to allow us to grow even more."
An unexpected donation came in 2018. Foré flew to Denver to talk to someone who had made money in cryptocurrencies and received funding for the full-time hiring of elementary OS cofounder Cassidy Blaede James as Chief Experience Officer. A veteran of System76, James also provided OEM contacts that Foré hopes will assist future growth.
Today, elementary, Inc consists of two full-time employees, Foré and James, and a handful of regular contractors. However, Foré says, "development is primarily volunteer driven," with 20-30 active volunteers at any given time. Business decisions are made by Foré and James, and "technical decisions are largely made by the people most involved and ideally the ones most knowledgable for a particular subject." Foré says, "We're primarily driven by our volunteer community, so consensus building is important. We try to keep things public on GitHub as much as possible and make sure we're considering as many perspectives as possible, so there's a fairly flat organization structure. I've been overruled many times, so I think it's working!"
According to Foré, what distinguishes elementary, Inc. from other distributions produced by companies is its business model. While most company-based distributions either do not focus on the desktop or else derive revenue from services, most of elementary's revenue comes from the website and, more recently, the early access program. In addition, along with a handful of distributions like KDE Neon, elementary is one of the few that produces not only the distro, but the desktop (Figure 1) and key apps as well. "That gives us a tremendous edge in delivering a specific experience to our customers," says Foré. "The feedback loop is really tight, and we can produce something really cohesive, because we're not just acting as an intermediary between our customers and the folks who develop the software."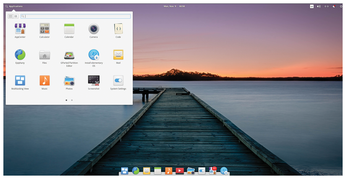 Figure 1: The elementary OS desktop Pantheon is noted for its thoughtful design.
Another advantage, Foré says, "is AppCenter and our focus on native apps. We've spent a lot of time creating this app ecosystem in which someone can come along with an idea, step through this really simple developer guide, and then publish their app and get paid. Because of this, we've added almost 200 new open source and native GTK apps to the ecosystem."
Design Principles
From the start, elementary OS has been known for its emphasis on design. Foré says, "we have a lot of little mantras we've picked up over the years." In particular, he cites German industrial designer Dieter Rams' "10 Principles of Good Design," Bruce Lee's advice to "hack away at the unessential," and even Marie Kondo's advice on decluttering lifestyles. "We don't seek to remove things just to remove them, but the goal is to get to a place where you're only surrounding yourself with things that 'spark joy' [in Kondo's words]," says Foré. "We're definitely not against making your experience more personal, but we're not maximalists who will add things just to add them, and we're very careful that we're not building products that will require our customers to make design and engineering decisions when they'd rather be getting work done. An operating system is, at the end of the day, a tool to do things."
Foré continues, "When we're talking about design, we don't just stop at how it looks; how it works is the most important part of good design. One of the first big things we did was work on making apps state-saving so that you can quickly jump back to where you left off, and we always make sure that apps open and close as quickly as possible. To get real work done, the system needs to be responsive or you won't end up wanting to use it. At the core of everything we do is open source, so, before anything, we build products around making sure we're working with upstream projects and in a way that is reusable and in an environment where as many people as possible can contribute and give feedback and be involved. And we're really careful about the kind of incentives that we carry as an organization: We don't do any kind of data harvesting or advertising, and we do our best to safeguard the privacy of our users, because not only do we use the products ourselves, but we also just don't like the kind of design that happens as a consequence of not holding these values."
Future Directions
Clearly, elementary Os is going from strength to strength. But what about the future? "We are really pushing hard," Foré says, "to make Flatpak the primary packaging format for apps on elementary OS. We ran our AppCenter for Everyone campaign last year right before the pandemic hit and so plans have been greatly disrupted, but we're still determined to deliver a Flatpak-based app store with great pay-what-you-want apps for everyone. All of the new features we're building in elementary OS are designed around apps being sandboxed and using portals."
Foré continues, "One of the biggest challenges we face in our mission of bringing an open source operating system to the masses is that most folks don't shop for operating systems, they shop for computers. Until recently it was really difficult to find computers shipping with elementary OS, and when friends and family would ask about the work we do, it was really hard to explain. Developing relationships with OEMs is really the next big step in our business. We currently have a handful of retailers that we're working with and I'm really proud of the work we've been doing on elementary OS as a result of these partnerships. The new Installer and Initial Setup workflow especially is going to make buying a computer with elementary OS much smoother."
In aiming for these goals, elementary OS does not see itself in competition with other distributions or open source products. Foré explains, "our mission with elementary OS is to get people running an open source operating system instead of a proprietary one, so focusing on taking away market share from other open source operating systems is kind of antithetical to that goal. I think a lot of people kind of outside of open source development like to think that all of the distros are in competition with each other, but we're mostly a big group of friends and we work together as much as possible. The metric I like to point to is that over 75 percent of our downloads are coming from proprietary operating systems, the vast majority of which are coming from Windows users. So, I think we're doing a good job reaching people that are outside of the Linux world."
comments powered by

Disqus