FOSSPicks
Bookmark manager
Shaarli
There was a time, many years ago, when managing web browser bookmarks was incredibly important. This was before Google got good, and you could seldom find the site you'd previously found or remember how you got there. Instead, you'd fruitlessly hunt through your browser history trying to remember the train of thought that led you to the site you wanted to revisit. If you had the foresight to bookmark the site, the problem was solved until you bookmarked too many sites and failed to organize them, leading you back to the rapidly improving Google. But bookmarks haven't gone away, especially now with many of us experimenting with other search providers and trying to keep as much personal preference off the Internet as possible. Consequently, it can still be a good idea to control and manage your own bookmarking regime.
We recently looked at a brilliant tool and local bookmark server called buku, but Shaarli has a slightly different take on the same problem. Rather than relying on a system command to handle the bookmarks and a server to present them, Shaarli handles everything from a web server using PHP. Installation is straightforward if you already have a server running, and the documentation excellently guides you through creating a virtual host in your configuration. There are also instructions for using Docker. When the service is up and running, you simply create an account, log in, and start adding bookmarks. The great thing about Shaarli is that these bookmarks can (optionally) be public and appear listed on the landing page so that anyone with access to your server can see them. Thanks to the search and tagging, a daily feed and even RSS provision, Shaarli can become a hub of activity and a central part of using the Internet outside of the big search and bookmark providers. Locked behind a firewall, Shaarli could be a useful local sharing hub for your family and friends.
Project Website
https://github.com/shaarli/Shaarli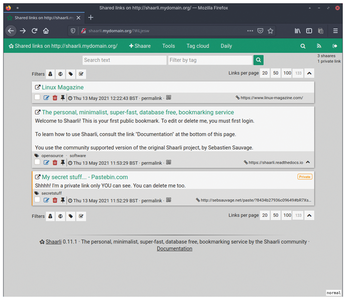 While we wouldn't recommend running Shaarli on the Internet, it's a great way to save and share bookmarks on a home network.
Music identifier
comments powered by

Disqus