FOSSPicks
FOSSPicks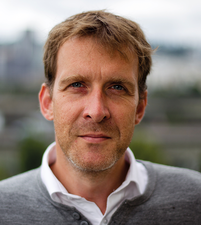 This month Graham looks at Bespoke, Waydroid, OpenShot, pedalboard, Onivim 2, Mr. Rescue, and more!
Modular music maker
Bespoke
It's amazing just how many incredible audio-related open source projects keep appearing. There seem to be more releases in this software category than any other, indicating the popularity of synths and music production. One of the best of these new releases, Bespoke is a super high-quality modular synth and music-making environment that follows hot on the squeals of the similar and equally remarkable VCV Rack. While VCV Rack is being used to primarily emulate real and fictional Eurorack hardware, complete with virtual patch cables that sink with gravity and skeuomorphic controls that need to be twiddled from a mouse, Bespoke is focused on good user interface (UI) design. It doesn't bear any resemblance to physical hardware or other audio projects, other than the unique touchscreen table and physical controllers of Reactable and perhaps even the ancient Bars & Pipes sequencer for the Commodore Amiga. Even if you have no interest in audio, you will want to play with it.
The heart of a modular synth is its modules. These are the parts that need to be wired together to generate a sound, and this is where Bespoke really excels. Many modules are included, split into categories such as instruments, synths, note effects, plugins, modulators, and audio effects. Every module has a beautifully designed UI with a "1970s disco meets vector display" aesthetic that forces you to play with it. There's a polyrhythmic sequencer called circlesequencer that consists of four concentric and rainbow-colored circles, and notes are played when the hand of a dial crosses their step point. The grids of the matrix note and drum editors could be from Tron, and the envelopes in the FM modules look like green CRT oscilloscopes. When a module offers multiple parameters, these are easily edited directly with text entry or by using sliders and buttons just like in any well-designed UI and not like a copy of a physical hardware unit transposed onto a screen. You can still drag connections between modules, but you can also drag modules together to create a default configuration, and there are keyboard shortcuts for everything. All of this is built on a zoomable and scrollable canvas that never taxes your GPU.
The most impressive graphical element becomes visible when you begin to connect modules together. Much like connections in the aforementioned Reactable, virtual wires stretch between inputs and outputs and animate to show what's been carried across them. If you start with a simple signal generator, set this to produce a sawtooth waveform, and connect this to a gain module to control its amplitude, the virtual cable will wobble to illustrate the shape of the audio waveform going through the cable. More than just eye candy, it's an excellent way to quickly see what is happening where and the effect that certain modules are having on the audio or data streams. The background of the canvas will also animate to display an oscilloscope representation of the output, and it can all be turned off if you don't like the distraction. Needless to say, it sounds just as good as it looks. Plus, there's a brilliant features matrix on the website that shows the difference in features between the free version, the plus version, and the pro version – the only difference being the fewer dollars in your pocket if you choose to make a financial contribution, which is definitely a worthwhile thing to do.
Project Website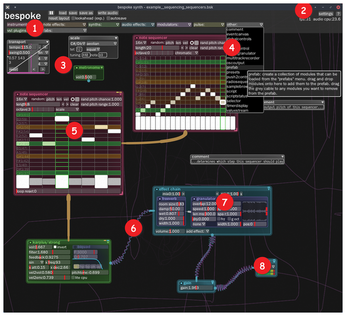 1. Modules: Choose a module from a category and wire them together in the canvas. 2. Settings: With direct output to ALSA, Bespoke works at a low latency and displays both audio and GPU overhead. 3. Sync and scale: Bespoke will talk to other apps and devices, and pitch can be locked to a specific scale and tuning. 4. Help: Most UI elements contain excellent rollover help text, including the scripts and esoteric modules. 5. Matrix editor: Bespoke can do more than just create sounds; it can sequence and record them, too. 6. Waveforms: The canvas background, audio connections, and data connections all wobble to help illustrate their data in real time. 7. Effects chain: Use VST plugins alongside the native modules. 8. Output: There are several modules for monitoring levels.
Android emulation
comments powered by

Disqus