Finding a path to energy-efficient software
Clean It Up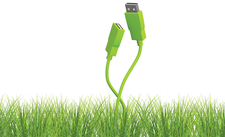 Sustainability studies for the IT industry often ignore the contributions of software. This article explores what developers and admins can do to create and maintain more energy-efficient systems.
The digital transformation has taken hold in all the corners of our culture, from business to our personal lives. Virtually nothing works without digital technologies, and for that reason, it is clear that we won't achieve the sustainable development goals (SDGs) set out by the United Nations unless we rethink our approach to our digital life.
The amount of energy required to operate the world's countless devices, networks, applications, and data centers is immense. Numerous studies have shined light on the increasing appetite for energy in the IT industry, and experts point to a need to massively improve the energy efficiency and sustainability of IT systems.
The problem with the increasing CO2 footprint in IT has been known for some time and has led to various initiatives that fall under the green IT umbrella. However, the main focus of this movement, especially in the data center sector, is on reducing the waste of natural resources in digital devices, using renewable energy sources, and a call for digital fasting – the practice of spending part of the day or week away from digital technology.
[...]
Use Express-Checkout link below to read the full article (PDF).
comments powered by

Disqus