Manage Internet uploads with Portmaster
Full Control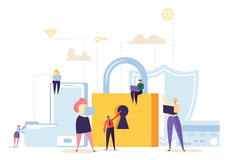 Security and anonymization play an increasingly important role on the Internet due to the endless appetite of Internet companies for personal data. Portmaster and the Safing Privacy Network will help you protect your privacy – even if you're not a security expert.
Intensified data grabbing is making life difficult for users on the Internet. It's not just the usual suspects like Google or Facebook who are collecting user data. Even conventional software packages have increasingly started phoning home and sending "telemetry data" to their vendors or third parties.
Users typically don't notice this data transfer and cannot track what data is being sent to whom. To stop this bad habit, a startup by the name of Safing, which has already twice received funding from the Austrian innovation incubator Netidee, has developed an application firewall called Portmaster that lets everyday users track and control the flow of data to hidden recipients [1].
Idea
Portmaster combines several privacy-related services in a single package. Included within the Portmaster application is a firewall, a system of filter lists to identify trackers and other undesirable sites, a secure DNS service, and an optional privacy service (similar to the TOR network) called the Safing Privacy Network (SPN).
[...]
Use Express-Checkout link below to read the full article (PDF).
comments powered by

Disqus