MediaGoblin looks for sweet spot between coding and philosophy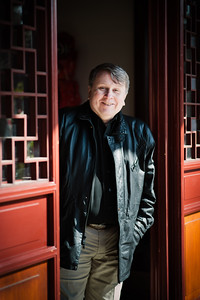 Off the Beat: Bruce Byfield's Blog
Mar 12, 2014 GMT
The last time I discussed MediaGoblin, the decentralized media-sharer, the software was minimally functional. Eighteen months later, the project is approaching general release, and a third of the way through a second round of crowdfunding intended to help it add privacy and anti-surveillance features.
What hasn't changed in those eighteen months is MediaGoblin's joint emphasis on coding and philosophy. Led by Deb Nicholson and Chris Webber, two veteran free software advocates, MediaGoblin is not simply planning a one-stop site for sharing different media formats, but also promoting de-centralization of the Internet through what it calls federation -- a collection of coordinated but independent sites instead of the single centralized site typical of most social media.
The idealistic and the practical
This combination of interests makes MediaGoblin one of the more interesting up and coming projects just now. On the one hand, the past eighteen months have been busy technically for MediaGoblin. Coming off its first crowdfunding campaign with 85% of its target reached, the project has since had five major releases and several minor ones. With the help of interns from Google's Summer of Code and the GNOME Outreach Program for women, and a grant from Creative Commons Taiwan, the project has added support for additional media formats, fine-grained permissions, and pump.io, an API for enabling federation not only for MediaGoblin, but also for other applications written in Python.
Talking about MediaGoblin's progress, Webber says, "we're pretty happy. We're getting close to the 1.0 release, except for polishing certain things, especially federation work."
On the other hand, while this technical progress was being made, the vulnerability of centralized services to loss of privacy has become more widely recognized. "We don't have to start at square one talking about privacy and surveillance issues," Nicholson says. "There's an understanding of how centralized services can just hand everything over to the NSA. You no longer sound like a tinfoil hat person. We're able to start with the solution, and not have to go so deeply into the problem."
The current campaign can even use an over-the-top video that draws heavily on the music and tone of super-hero comics to create an atmosphere of self-mockery rather than a more serious tone.
If anything, this mixture of coding and advocacy is only going to become stronger in the future. Among the stretch goals for the current campaign are various tools for encryption. In particular, Webber and Nicholson talk about incorporating Tahoe-LAFS, a cloud storage system that redundantly distributes encrypted files across multiple servers -- an addition that fits well into the concept of federation.
However, at the same time, Nicholson and Webber are aware from previous efforts to build a de-centralized web such as Diaspora that idealism is not enough. They suggest that such projects may briefly capture popular imagination, but require the effort of years before they start to have the intended effect.
To be successful, Nicholson suggests, projects like MediaGoblin not only need to help people move away from centralized services, but also to "provide something you don't get with centralize services, something people find exciting even if they don't care about privacy and surveillance. It's a matter of giving peole a noticeable advantage over existing proprietary sites. We can talk about software freedom later."
To achieve this advantage is difficult, but MediaGoblin's project leads suggest that the timing has never been better. Not only are the issues that MediaGoblin addresses being widely discussed, but free software has reached a state where user-friendly alternatives to proprietary solutions exist, and more people are willing to tinker to get the types of features they want.
Or so MediaGoblin hopes, and so the interest in its work seems to indicate. According to Nicholson, fundraising "generates a long tail of interest. Our community grew significantly after the last campaign, and appears to be doing so in the current campaign."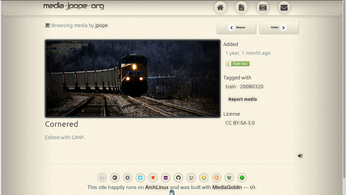 The second time around
As I write, the current crowdfunding campaign has over a month to run, and is a third of the way to the first goal of $35 thousand. While fundraising campaigns tend to slow as they continue, Webber is cautiously optimistic of reaching the second goal of $60 thousands.
However, so far, there are no indications that a second campaign for software reduces interest, as some observers have suggested might be the case.
"I think we got so much done between the end of the last campaign and this one that it sort of sells itself," Nicholson says. "If we came back, and it was just like, 'Yeah, we were re-watching Buffy this year, but we would love to ask for money again,' then people wouldn't give us anything. But when we can point to five major releases, and being so much closer to federation than we were before, that takes us out of the category of, 'we didn't quite finish our movie yet; can you give us more money?'"
Whatever the outcome of the second campaign, MediaGoblin continues to demonstrate a level-headed idealism that has a strong chance of achieving its goals no matter what. The success of the second campaign may make those goals happen sooner, but they seem likely to happen to regardless. At a time when interest in free software seems to have given way to pure commercialism, MediaGoblin is the kind of project that we need more of.
comments powered by

Disqus