Dillinger: Markdown Editor Done Right

Productivity Sauce
Jul 07, 2014 GMT
It seems that writing a markdown text editor is a popular pastime for many developers: hardly a day goes by without yet another markdown editor popping up somewhere on the web. Fortunately, not all of them feel like a weekend project waiting to be abandoned. Take Dillinger, for example. This web-based Markdown editor has been around for a while, and its developers continue to improving it at a steady pace. At first sight, Dillinger looks like just another Markdown editor. Its main window is split into two panes: one for editing and one for previewing the formatted text. However, Dillinger features several creature comforts that most users find handy. For starters, the editor has a word count feature, an essential tool for most writing professionals. The auto-save feature (enabled by default) ensures that you won't lose your work, and you can customize the editor's appearance by selecting one of the many available themes.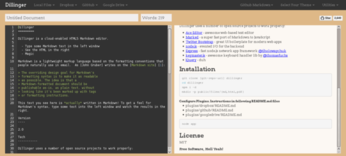 You can open existing Markdown files in the editor as well as create new ones. Better still, the editor supports several popular services, including Dropbox, Google Drive, and GitHub. When you link the editor to any of these services, you can open files, edit them, and save them back to the linked service. In addition to the standard Markdown, the editor also supports GitHub Flavored Markdown as well as HTML. Commands tucked under the Utilities menu allow you to export the currently opened file in the Markdown, HTML, and PDF formats.
Instead of using the hosted version of Dillinger, you can opt for installing it on your own server. You can find the installation instructions at the project's GitHub repository.
comments powered by

Disqus