Faster, Stable Google Chrome 3
Sep 17, 2009
After a year's development, a new, stable version 3.0 of Google's open source Chrome browser is now available. Developers promise "significant speed improvements," although current beneficiaries are Windows Vista and XP users only.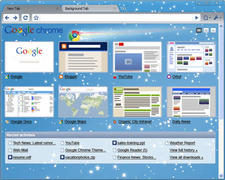 Google Chrome users can select from among numerous browser themes.
As Google program manager Anthony Laforge announced in his blog posting, "this stable release incorporates many of the improvements and features that we tested out in our most recent beta release, including a 150% increase in Javascript performance since our very first beta." The official Google blog supports his assertion with two benchmark graphics and comparisons with Chrome versions 1 and 2.
Chrome 3 underwent a complete redesign of the New Tab page where the most commonly accessed webpages become thumbnails that you can rearrange and pin to a persistent spot on the screen. To continue along the "most used and favorite" theme, the Omnibox at the top of the browser that serves as both a search box and self-completing address bar now has an optimized presentation with a drop-down menu and helpful icons. Chrome 3 also incorporates the new HTML5 features of integrating videos as easily as graphics into a website. Then there's the abundance of browser themes, with a themes gallery showing the selections, comparable to what Mozilla Firefox has been providing as an add-on for some time.
The official Google blog has some interesting background figures: the past year involved 51 developer, 21 beta and 15 stable updates, with 3,505 bugfixes that went into Chrome 3. Downloads for Chrome 3 for Windows XP and Vista are on the Google webpage. The Linux variant should be out by the end of the year and is currently in a developer version.
comments powered by

Disqus