Ubuntu Karmic Koala Enters Beta Test
Oct 02, 2009
Like openSUSE, the Ubuntu project has released its first beta version of Ubuntu 9.10 (Karmic Koala). The final version should appear October 29.
Compared to its predecessor, alpha 6, nothing much has changed for the Karmic Koala beta. However, the Ubuntu and Kubuntu teams have completed the artwork in the meantime, so as to get used to the look and feel of the final version. The selection of wallpapers was decided upon from the previous short list. Ubuntu also brings GNOME 2.28 with it along with the completed Software Store.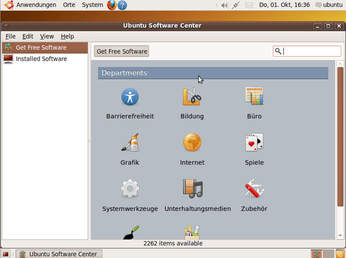 Karmic Koala's Sofware Center should integrate all possible forms of package management into a single tool.
Downloads are in various versions:
( Marcel Hilzinger )
comments powered by

Disqus