XWiki 2.3 Offers New Features for Users and Developers
Apr 27, 2010
Annotations, color selections, and improved customizations come to the XWiki CMS.
Among the new features to the user interface is a convenient function to add annotations to text segments by enabling Annotations, selecting the text and pressing Ctrl+M. The annotations become visible by passing over the ensuing yellow icons with the mouse. Annotations can also be edited.
The new ColorTheme editor displays favorite themes in the browser GUI. Without any programming or HTML knowledge, users can click the color palette to choose background and text colors. Also new is the ability for unregistered users to leave comments after completing a captcha, which should prevent automated comment spam.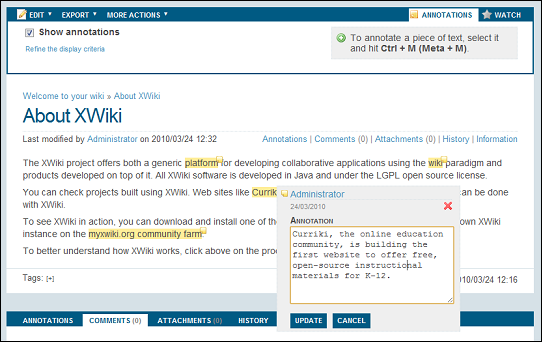 XWiki 2.3 provides convenient and editable annotations.
For developers, the Java-based system provides a ConfigurableClass so that users can configure the application in the XWiki administration.
Further details are on the XWiki homepage. A demo installation is also available, albeit in an earlier version. Downloads of the LGPL software are available in various installation packages. Java 5 is a required.
comments powered by

Disqus