SCaLE 14x Highlights
Community Driven
Swapnil stops in on the Southern California Linux Expo (SCaLE).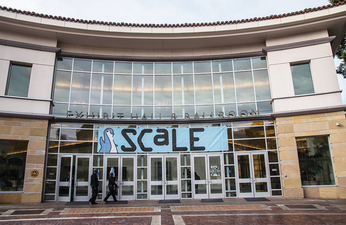 Southern California Linux Expo (SCaLE) is a one of the largest community-driven events. SCaLE usually happens in February; however, this year, the organizers had to move up the dates to January, so SCaLE became the year's first major Linux event.
I took an 8-hour flight from icy cold Washington DC to warm and sunny Pasadena, California. This was my first year attending SCaLE, and I was impressed with the magnitude of the event – especially the fact that everything is community driven. It reminded me of FOSDEM, which I never missed when I lived in Belgium. However, unlike FOSDEM, SCaLE wasn't chaotic; it had the same organizational polish you will find in commercial events like SUSECon or LinuxCon.
When I asked about the history of SCaLE, conference chair Ilan Rabinovitch and publicity chairperson Larry Cafiero told me, "SCaLE, initially known as the Southern California Linux Expo, was first held in 2002. Most of the founding team were students at USC, UCLA, Cal State Northridge, and UC Santa Barbara. USC's Computer Science department was our founding sponsor and provided us with funds and a venue to help us get off the ground that first year."
The Venue
Almost half a dozen self-registration booths stood at the entrance, where you could register yourself to print your pass. That took care of the long lines typically seen at such events. Once the pass was printed, you could go to a registration booth manned by volunteers to get your free shirt, badge, bag, and some goodies. There was a minor "bug"with the SCaLE badges. The rotating hook attached to the lanyard that held the name badge was almost always turned backward. I would suggest a badge hack for the next conference: Either get rid of the rotating hook or print the name on both sides.
The First Day
This year SCaLE was co-hosted with the UbuCon Summit. Canonical brought almost all of their leading engineers and developers, and I got to meet some of the core Ubuntu contributors.
The first day of the event started off with a keynote by Mark Shuttleworth at the UbuCon Summit. Mark talked about the diversity in the Ubuntu community and how Ubuntu enables different people to do different things. He also touched upon Ubuntu's support for a wide range of products – from tiny IoT things to drones to smart cars. He also talked artificial intelligence, but he focused on managing what he calls "Big Software."
Later, in an interview, when I asked more about "Big Software," Shuttleworth said, "The world of computing is always changing, and I believe there is a new class of software, let's call it Big Software, just like Big Data. Big Software is not one app, it is tens of applications that are really made up of many (often tens) of separate components working together. And it's not running on one machine, it's running on thousands of machines." He further explained that software is going through a phase transition that demands new tools and new ways of thinking about software operations, in the same way that data went through a phase transition from the structured-only SQL days to the modern, unstructured "Big Data" approach. We built Juju to let people work with Big Software. It doesn't matter if you want to work with machine learning Big Software or Big Data Big Software or OpenStack or PaaS as Big Software."
I also asked about the level of confidence people should have in Ubuntu phone; specifically, how long would he support it? Shuttleworth said he is fully invested in the mobile phone, and he will support it for a foreseeable future. He also talked about the arrival of Snappy to the apt-get world and the introduction of classic, apt-get mode on the Snappy system.
I later sat down with the Ubuntu developers for a round table and learned more about the new features of the upcoming Ubuntu 16.04, their mobile plans, and new challenges for the Ubuntu developer team.
That night, Jon "maddog" Hall talked about the Linux past, and how everything started off as "open source" in the sense that you got the source code when you bought a computer, but gradually companies like AT&T moved to a closed source model. He talked about how he helped Linus Torvalds acquire machines to expand Linux support for more architectures. He also touched on the important role that the Free Software Foundation and Richard M. Stallman have played in creating alternatives to closed source software.
maddog was followed by Jono Bacon, who talked about the present of open source and proclaimed that open source has won. The stage was then taken over by 14-year-old Keila Banks, who shared her idea of open source for the future. Bacon and Hall returned to the stage to pay homage to deceased Debian founder Ian Murdock. The night ended with Bryan Lunduke's "Linux Sucks" stand-up routine.
The Second Day
The biggest highlight of SCaLE and the second day was a keynote by famous author and activist Cory Doctorow. In an interview before SCaLE, Doctorow told me that, back in 1999 or so, he had attended the SoCal LUG, so he had actually been to one of the predecessors of SCaLE.
I was expecting a huge crowd, and I was not disappointed; the room was full. Doctorow talked about how DRM is becoming more and more invasive in our lives. He talked about the risks and dangers and then mentioned the Apollo 1201 project started by EFF that aims to eradicate DRM in our lifetime.
The evening then featured Jono Bacon's Bad Voltage show, which experienced some glitches as he struggled with his MacBook and keynote app for the show. My advice to Bacon is use Linux and LibreOffice next time; they just work. The most interesting bit of the show was when Matthew Garrett went up on the stage for a quick rant and blasted Jono and the crew for using non-free software at a Linux conference [2].
comments powered by

Disqus
Visit Our Shop
Direct Download
Read full article as PDF: