Knoppix 7.7
Live Linux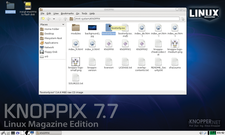 Knoppix 7.7 is based on the current development version of Debian GNU/Linux and comes with hardware support from kernel 4.4, including many updates and new features.
The DVD in this month's issue is the exclusive Linux Magazine Edition of Knoppix 7.7 [1], released in conjunction with the CeBIT 2016 Global Event for Digital Business in Hannover, Germany [2].
This newest release from Klaus Knopper incorporates several new features, including kernel 4.4 with the BFQ patch, Xorg 7.7 with core server 1.17.3 for hardware support, Areca Backup personal backup tool, 3D design and 3D printing software, along with a number of new packages and updates to standard software.
A 2015 article in issue 173 [3] covered the Knoppix 7.5 CeBIT release in detail. Please refer to that article for more information. This article looks at changes, additions, and updates since v7.5.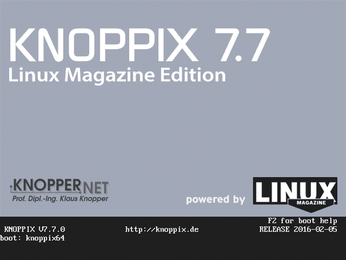 Kernel 4.4 with the BFQ Patch
The "budget fair queueing" (BFQ) storage I/O scheduler [4] patch is integrated into Knoppix 7.7. The goal of the BFQ patch is to launch each program in a matter of seconds, as if nothing else were running on the computer, despite media fully loaded with data, slow DVD drives, or an overloaded hard drive. As the term "patch" implies, this feature is not present in the plain vanilla kernel. With it, the desktop system subjectively feels considerably smoother, and programs "freeze" less often in a wait loop when large volumes of data need to be read in parallel.
Boot Problems?
In the new 7.7 version, "3D mode" with Compiz is only enabled if the graphics card has the necessary composite extension and is running in "accelerated mode." Knoppix normally requires no boot options to identify the existing hardware, graphics adapter, and so on, or to configure the system optimally. As the number of different chipsets and their combinations grows, it is sometimes necessary to disable a misbehaving hardware feature or individual component temporarily to be able to boot for production desktop operation.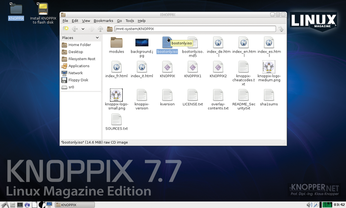 Some of the most common boot options are specified in the boot help, which is available when you press the F2 or F3 key; others are listed in the knoppix-cheatcodes.txt file in the KNOPPIX folder. For example, if the desktop stalls at the point the Compiz 3D window manager should start, the boot option you need is
knoppix nocomposite
or
knoppix no3d
which turns off the "composite" extension of the graphics subsystem or simply prevents Compiz launching.
Similarly, for graphics cards that start without 3D as a precaution, you can try the boot option
knoppix 3d
to re-enable the Compiz 3D functions.
Everything 3D
For a while now, 3D design and 3D printing have been big topics. In addition to the tools for people who are gifted at drawing (e.g., Blender, LibreCAD, and FreeCAD), both the OpenSCAD construction program, which can be used to create dimensionally accurate prototypes without drawing, and the Slic3r tool, required for 3D printing in layers, are included with the system (Figure 1).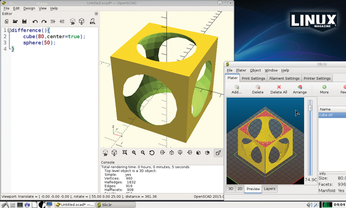 Figure 1: OpenSCAD (left) lets you create 3D models. Slic3r (lower right) slices your models into horizontal layers so you can send printing instructions to your 3D printer.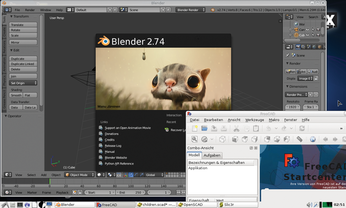 A (Brief) Summary of Knoppix 7.7
Version 7.7.0 is assembled, in the usual Knoppix style, from a mix of Debian Stable (Jessie) and some proprietary packages (especially the graphics drivers and current desktop programs) from Testing and Unstable (sid); version 7.7 uses kernel 4.4.0 with the BFQ patch and Xorg 7.7 (core 1.17.3) to support state-of-the-art computer hardware.
Optional 64-bit kernel with autodetection – or manually with the knoppix64 boot option – supports systems with more than 4GB of RAM and chroot in 64-bit environments for system repair (DVD version only).
LibreOffice 5.0.5.
Gimp 2.8.16.
Chromium 48.0.2564.82 and Firefox/Iceweasel 44.0 web browser with AdBlockPlus 2.6.10 and NoScript 2.9.0.2 .
LXDE (standard) with PCManFM 1.2.3 file manager, KDE 4.8 (boot option knoppix desktop=kde, DVD version only), Gnome 3 (boot option knoppix desktop=gnome, DVD version only).
Compiz 3D desktop extension version 0.9.12.2.
Wine version 1.9 for integrating Windows-based programs.
QEMU-KVM 2.5 for (para-)virtualization.
Linux kernel version 4.4 [5] with cloop and AuFS.
Optional use of the Tor network for anonymous web surfing.
Easy desktop export via VNC and RDP for remote desktop viewing on Linux and Windows (especially interesting for teachers).
Upgrade path for Knoppix flash disk installations with flash-knoppix.
Barrier-free YouTube connection in the ADRIANE audio desktop.
Experimental support for UEFI boot (DVD: 32- and 64-bit, CD: 32-bit only) for installation on a USB stick.
TCP Stealth support in the kernel and OpenSSH (experimental).
Blender 2.74 3D animation suite.
Liferea RSS reader [6].
Shutter [7] advanced screenshot tool.
Areca Backup [8] solution.
Syncthing [11] P2P backup and sync tool.
comments powered by

Disqus
Visit Our Shop
Direct Download
Read full article as PDF: