FOSSPicks
Video splitter
VidCutter 3
If you create lots of videos, such as screencasts of your desktop (see above), you often need to cut bits out of them. This isn't just to turn them into punchy, meme-friendly snippets of your gerbil olympics; it's an essential part of both the recording and editing process. Editing is obviously the central process in all video editors, but its significance can overburden applications with similar processes. Often, all you want is the video equivalent to selecting a piece of text and pressing delete. VidCutter aims to do just that – make practical edits quick and easy – and it mostly succeeds.
The UI is refreshingly simple. Most videos will load without conversion, thanks to the libmpv back end, and you can immediately start playing with the edits. The basic process mimics that of fully fledged editors while restricting options to the minimum. You go through a file creating clips by selecting the start point and end point of each clip. The mouse wheel or left/right cursor keys can be used to step a single frame forward or backward, which is excellent, while up and down keys will skip five seconds. Return can be used to quickly create a start or end marker for a clip, and a thumbnail of each clip appears in the right after being defined. You can reorder the clips by dragging and dropping them within this panel, and when you've finished making clips and dragging them into a sequence for your final video, clicking Save will output the final version to a new file. There are no effects or audio processing, which is why VidCutter is so effective. You often don't need those facilities for instant uploads and quick funny clips.
Project Website
https://github.com/ozmartian/vidcutter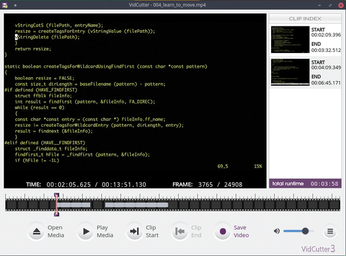 Using Qt, VidCutter remains lightweight and easy to use and can even output EDL files for further editing with other applications.
Drum machine
comments powered by

Disqus
Visit Our Shop
Direct Download
Read full article as PDF: