FOSSPicks
Mac data recovery
HFS+ Rescue 3.3
HFS+ Rescue – or hfsprescue as it is on the command line – is an absolutely remarkable tool that saves Apple Mac hard drive data from disaster. This may seem like an odd thing to write about in a magazine that deals predominantly with Linux, but it's not. Many of us install Linux on Apple hardware and keep the old Apple operating system around for one reason or another – OS X is still excellent for audio software, for example, and some designers still refuse to give up on the Adobe hegemony. HFS+ is the journaled filesystem used on these machines, and just like any other filesystem, it can go wrong.
As this is Apple's ecosystem, native tools that run on OS X are no longer permitted on Apple's App Store (because they require permissions to modify the underlying filesystem structure, of course!), and almost every other option is proprietary and expensive. Fortunately, Linux and open source are here to save the day. HFS+ Rescue is a really well-engineered tool that you can run against an HFS+ formatted partition that will attempt to rebuild the entire contents of the drive, including recently deleted files, on your Linux drive. It does this via six different steps that need to be run separately. Step 1 will scan for files; step 2 cleans up the database; step 3 restores those files; step 4 restores the directory structure; step 5 moves those files into the correct directories; and step 6 cleans up. You'll end up with everything hopefully in a local copy of your Mac drive, with non-unique or undeleted files in a separate folder. And the most important thing is that it works. I tested this on a 250GB SSD with a Mac data partition, and the entire drive was restored to my home folder in around four hours.
Project Website
https://www.plop.at/en/hfsprescue/index.html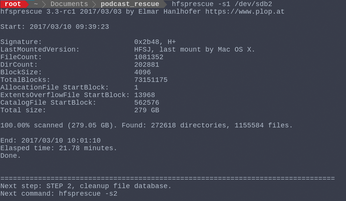 Charge huge consultancy fees to your Apple-owning friends by saving their corrupt hard drives with open source.
Byte converter
comments powered by

Disqus
Visit Our Shop
Direct Download
Read full article as PDF: