Graham tears himself away from updating Arch Linux to search for the best new free software.
Tomb Raider engine
OpenLara
When I first heard about OpenLara, I initially thought it was going to be a recreation of a wonderful and underrated cricket game for the PlayStation 1, Brian Lara Cricket (which was better than its original Amiga forebear thanks to the use of 3D graphics). Even if you didn't like cricket, Brian Lara's action and strategy gameplay was compelling enough to make anyone a fan. OpenLara isn't a reference to Brian Lara. Instead, it's a reference to the much more famous Lara – Lara Croft, from the game series Tomb Raider. The original Tomb Raider games were fantastic. They combined a powerful game engine, capable of letting you explore caves, cities, and the London Underground, while the player solved complex problems and interacted with the environment. The game engine, combined with wonderful scripting and storytelling, was responsible for making those early games so successful. Everyone who's played them remembers the Tyrannosaurus Rex appearing out of the Lost Valley in the first game.
OpenLara is an open source reimplementation of that classic game engine. OpenLara itself has taken inspiration from another open source project, the OpenTomb project, which developed a Tomb Raider-compatible game engine from scratch, which is remarkable as neither of these projects use code from the original studios, Eidos or Core. This was partly to sate the appetite of a Tomb Raider community desperate for the source code, and partly as an academic exercise. OpenLara's party trick is that it can use WebGL to run the game in a modern web browser, which is a great reminder of how far technology has come, but you can also run it directly from your desktop. It's worth playing with not just because it's an interesting project and the source code could help games and level designers, but because it's already advanced and capable enough to make the demo level enjoyable as a free game.
Project Website
https://github.com/XProger/OpenLara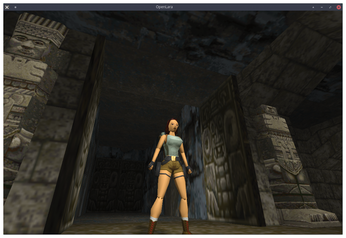 Make Tomb Raider great again by recreating the original game engine.
Strategy game
comments powered by

Disqus
Visit Our Shop
Direct Download
Read full article as PDF: