Graham tears himself away from updating Arch Linux to search for the best new free software.
Music sequencer
Helio Workstation 1.7
The complexity of music making software seems to have followed Moore's Law, as if the developers behind those applications can't just leave those extra transistors sitting idle. Ardour, BitWig, and even Rosegarden pile on the features, hoping to help moribund composers find their muse by clicking on extra buttons. Those extra functions and buttons can be incredibly useful and shouldn't be replaced. But, like the effectiveness of a simple melody, there's room for something that focuses more on the simple act of creating notes, much like a writer might use a distraction-free text editor to write words. And that's what Helio Workstation does so well. It's a beautifully designed application that puts note creation, and the relationship between those notes, at the heart of its functionality. And it does this in a fluid, dynamic way that helps you create music.
Helio Workstation is fundamentally a simple MIDI sequencer. The main view is a piano roll, with notes on the vertical axis and duration on the horizontal. Click the mouse to add a node, and press Space to start playback. But there's far more that is immediately obvious. Notes are added to a grouped and colored layer, and you can create new layers easily and use them for different music parts. Layers are transparent, which means you can easily create counter melodies or chords against notes in other layers. Double-click and you get a brilliant radial menu that lets you choose and hear different chords and notes transposed from the root note, and selecting one will add this to the current layer. There's even a built-in piano sound that is ideal for quick compositions. Best of all, version control is a fundamental part of the workflow. Much like a coding project managed with Git, you can check out branches (revisions) and make changes, with everything being tracked for easy reference. It's simply brilliant.
Project Website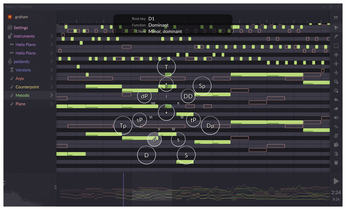 Helio Workstation has one of the best user interfaces I've seen, complete with OpenGL acceleration if enabled.
Audio workstation
comments powered by

Disqus
Visit Our Shop
Direct Download
Read full article as PDF: