A BeOS-inspired desktop operating system
Haiku Close Up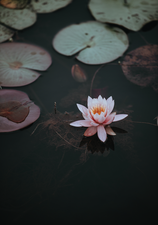 The long-awaited Haiku OS beta release has arrived. This BeOS-inspired operating system may finally be ready for daily use.
When it comes to open source operating systems (OSs), GNU/Linux is the undisputed champion, but it does have contenders worth noting. Haiku OS, a microkernel OS inspired by BeOS (an OS for multimedia desktop use developed in the 1990s) is one such contender. Haiku brings the BeOS foundation to the modern age by adding up-to-date drivers and populating its software store, HaikuDepot, with the latest open source titles commonly found on Linux.
Haiku Specs
Haiku is a single-user desktop OS based on the re-implemented NewOS kernel from BeOS – a hybrid kernel designed from the bottom up to be "pervasively multithreaded" (long before multicore CPUs emerged). Haiku is not a Unix-based system, but it has a POSIX compatibility layer added on top to provide a standardized shell and GNU userland utilities, such as coreutils. The OS is written in C++ and sports modular design with most components, or "kits," referring to specific functions (kernel, input, media, etc.). The default filesystem, OpenBFS, is a modern 64-bit journaling filesystem with support for case-sensitive names. The original compiler is the historic GCC 2.95, which makes Haiku binary-compatible with the legacy BeOS applications. However, Haiku also supports and provides modern compilers, including Rust and the GCC 7 compiler (v. 8 is in the works).
Haiku has relatively modest hardware requirements. It needs an x86-compatible CPU (Pentium II or above), 128MB of RAM (1GB is recommended), and at least 700MB of hard drive space. Our aging Sandy Bridge-based machine felt like a super-speed jet with Haiku (Figure 1)!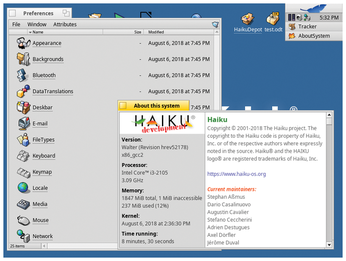 Figure 1: Despite its size, the AboutSystem dialog contains frequently used information about the current Haiku system.
A Blast from the Past
Haiku has come a long way from a geeky project to an OS that can be confidently recommended for daily use. Haiku's predecessor, BeOS, was developed by Be Inc. and founded by former Apple CEO Jean-Louis Gassée in the early 1990s. BeOS took advantage of then-modern computer hardware features (e.g., symmetric multiprocessing) by utilizing modular I/O bandwidth, pervasive multithreading, preemptive multitasking, and a 64-bit journaling filesystem known as the Be File System (BFS). The BeOS GUI displayed the principles of clarity and a clean, uncluttered design. In 2001, BeOS copyrights were sold to Palm Inc. Initially, the OpenBeOS project attempted to update the discontinued BeOS 5.0.x. To avoid infringement of the BeOS trademark, BeOS enthusiasts renamed the project to continue updating the OS. As a result, Haiku OS was born in 2004. Four years later, the project registered its own website [1].
Early on, very few people were involved in Haiku development. Moreover, Michael Phipps, the founder of the Haiku project, quit in 2007 leaving the project's future uncertain. This partially explains the relatively modest amount of work completed by the time Haiku R1/Alpha 4.1 was released in late 2012.
Today, Haiku has more than 100 contributors, mainly from the US and the EU, and their hard work really shows. For years, Haiku 64-bit nightly builds were unable to run older 32-bit apps; this problem was recently fixed, so now Haiku includes a set of 32-bit compatibility libraries. It also finally supports UEFI boot, boasts Ethernet and wireless drivers compatible with FreeBSD, ships with a working software store out of the box, and offers lots of great open source software titles, including LibreOffice and Krita. Consequently, using Haiku's nightly images makes much more sense than sticking with the aging Alpha version because of all the latest software, driver stacks, and bug fixes.
Hardware Support
Haiku hardware support is reminiscent of Linux from the early 2000s. You may encounter systems that will not boot Haiku Live media because of unsupported graphics (e.g., Nvidia 8x series and newer). However, Radeon and Intel chips are supported, although on certain configurations, Haiku will default to the VESA driver, which does not provide hardware acceleration. Regardless, the OS is still so fast and fluent that you hardly notice any lack of responsiveness even with VESA; the system will still perform fine. Nevertheless, beginning with Google Summer of Code 2017, work on Intel's hardware acceleration in Haiku has been a focus, which currently has born fruit. The i915 Direct Rendering Manager (DRM) driver in Haiku now supports acceleration for all of Intel's HD/Iris chips, which means that getting the best graphics support is more likely on such hardware.
Haiku supports some of the main libraries used by games, like Simple DirectMedia Layer (SDL) versions 1 and 2, PhysicsFS, OpenAL, GLEW, FreeType, and others. If hardware acceleration is not available, Haiku switches to working with OpenGL through Mesa, but only with a software renderer.
Network card support is different. An official Haiku hardware compatibility list contains lots of gray (i.e., unsupported) lines. Network connectivity can be a real showstopper. Even if Haiku boots fine but remains offline, there is little you can do to set up the system, unless you manually download *.hpkg packages on another machine and transfer the files to Haiku, perhaps via a USB drive. However, most Atheros and Broadcom and some of the Intel Pro wireless chips work correctly under Haiku, to a large extent thanks to the merging of the FreeBSD 11 driver to the Haiku code tree in recent months. As for the other types of hardware and peripherals, the overall impression is quite good. For example, Haiku includes the Gutenprint package in its official repository, guaranteeing support for a huge variety of printers, comparable to Linux.
comments powered by

Disqus
Visit Our Shop
Direct Download
Read full article as PDF: