Getting Started with Scribus 1.5
Working with Text and Images
The advantage of working with DTP tools such as Adobe InDesign or Scribus is that they offer considerable flexibility in placing text on the document. A text frame can be positioned anywhere in the document and easily resized or rotated.
You can also connect different text frames so that they work like a single text frame. This is useful when you want to work across a page break, for example, as part of a double-page spread. In addition, text can be made to wrap around images, and it doesn't have to appear in a straight line (Figure 3).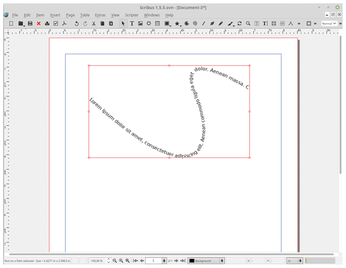 Figure 3: Working with the more advanced tools in Scribus, you can make text flow in any shape or direction you choose.
Text can be processed in Scribus in many ways. In the simplest variant, you click on the icon that allows you to insert a text frame, drag a rectangle on the page as you did previously for the background shape, and enter the text. You may also have an icon that allows you to edit text. If you want to adjust the appearance of the text, you can do this via Windows | Text Properties.
Don't be fooled by the fact that Scribus always draws a thin line around the text frame – this frame disappears when exporting or printing. The box is only intended to help you estimate the outline of the text box when creating the flyer.
Similarly, you can place images in Scribus by using the photo frame. You will find the icon next to the icon for inserting text. Drag the frame to the point in the document where you want the image to appear. Right-click it and select Get Image from the menu. Now select the desired image, which then appears in the frame. Then right-click the photo again and select Picture | Adjust Image to Frame. Now the frame with the image can be moved within the document like any other object type.
Once you have finished designing your flyer, you need to prepare the document for the printer, whether for a simple office printer or a professional print job. To export as a PDF, go to the icon bar at the top and click on the PDF symbol, the seventh from the left. While there are many options for saving files that would be useful for a professional print job, you can also use simple presets.
More Advanced Features
Scribus supports working with layers. This allows elements in the document to be edited individually, although they overlap. Layers also let you apply various special effects. And if something goes wrong, a layer can be quickly deleted and rebuilt – at least faster than the entire document. Selecting Windows | Layers takes you to the Layers dialog, where you can create new layers; it also gives you the option to delete layers you no longer need.
For many print projects, you may choose to work from a template. Scribus v1.5.0 and later let you open documents created with Adobe InDesign. However, support is limited to the Adobe DTP program's XML exchange format (IDML) and Adobe InDesign Snippets (IDMS). The common INDD format, in which numerous free and commercial templates are also available, is only on the wish list [3] thus far. The Scribus developers would not only have to crack the proprietary Adobe format in order to implement this function, but would most likely also have Adobe's lawyers breathing down their necks [4].
So if you stumble across a template on the web that was built for Adobe's professional publishing software, you should ask a friend or colleague to export the document from InDesign as IDML. In this way, you can build a new document from this template when you launch Scribus and edit it as you wish. This is always more convenient than building a document yourself – especially when it's not just a simple flyer, but a more elaborate creation.
comments powered by

Disqus
Visit Our Shop
Direct Download
Read full article as PDF: