NEWS
NEWS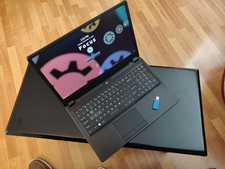 In the news: Kubuntu Focus Laptop Is Now Ready for Preorder; Dell Adds a Much-Requested Feature to the New XPS Developer Edition Laptop; Bonsai Promises to Make Syncing Gnome Devices Easier; and Huawei Releases CentOS-Based openEuler as Open Source.
Kubuntu Focus Laptop Now Ready for Preorder
The Kubuntu Focus is a new Linux laptop effort set to marry the Kubuntu Linux distro (https://kubuntu.org/) and a laptop aimed specifically for gamers, power users, developers, video editors, and anyone who seeks performance and seamless Linux compatibility. This brand new laptop is ready for preorder (https://kubuntufocus.myshopify.com/).
The laptop was born from a collaboration between Kubuntu, TUXEDO Computers, and MindShareManagement Inc. The Kubuntu Focus will not only highlight the KDE desktop environment, but it will be the first officially recognized laptop created specifically for the Kubuntu Linux distribution.
But before you visit the site for preorder, understand this is a premium piece of hardware with a premium price tag. The hardware specs alone should clue you in on the price. The base model includes:
You can bump the RAM up to 64GB and the GPU to an NVidia RTX 2080.
Other noteworthy features include:
Backlit keyboard
Kensington lock
NVMe and SSD near-silent operation
Temperature controlled fans
Metal surface chassis and plastic bottom
Dual-mode Bluetooth 5
Optical S/PDIF output
2-in-1 audio
6-in-1 card reader
Full disk encryption
The base unit sells for $2,395. A maxed out version will set you back $3,555. The units are set to start shipping in February 2020. For more details (as well as benchmarks), check out the Kubuntu Focus online (https://kfocus.org/).
Dell Adds a Much-Requested Feature to the New XPS Developer Edition Laptop
To anyone who has spent any time researching companies that offer hardware with Linux preinstalled, chances are you know about the Dell XPS Developer edition. This began as Project Sputnik in 2011, when Dell's Barton George realized that no major original equipment manufacturer (OEM) was building a fully-supported Linux laptop that included drivers and provided a great out-of-the-box experience.
Fast forward nine years later, and the project is still going strong. In fact, the Dell XPS Developer Edition has been declared a best in show Linux laptop by numerous reviewers and outlets. Dell knows this and understands the audience for which this hardware is targeted. Dell also listens to the communities they serve.
Case in point, the Linux community.
One thing that has been sorely missing from Linux laptops is support for the fingerprint reader. This form of biometric security is not only superior to passwords, it's more efficient. And Dell is finally bringing a fingerprint reader to the 10th generation XPS 13" Developer Edition.
Although details on the fingerprint reader are sparse, Dell has announced that support for the fingerprint reader will be available as an over-the-air (OTA) update soon after the hardware is released in February 2020.
For those that are curious, the specs for the machine look like:
10th generation Intel Core 10nm mobile processors
Ubuntu 18.04 LTS
Fingerprint reader support (driver initially available via OTA update)
Up to 32GB memory
Up to 3x faster wireless with Killer AX1650 built on Intel WiFi 6 chipset, supports up to 2TB PCIe SSD
Up to 4K Ultra HD+ (3840x2400) display
Cost for new XPS Developer Edition will start at $1199.
For more information, see Barton George's website (https://bartongeorge.io/2020/01/01/introducing-the-2020-xps-13-developer-edition-this-one-goes-to-32/#comments).
Bonsai Promises to Make Syncing Gnome Devices Easier
If you're a GNOME user with multiple devices and have longed for the day when those devices could easily be synced with one another, that wish may be coming true. Red Hat developer Christian Hergert has started developing a project called Bonsai, which will serve as a sort of personal cloud for all of your Gnome-based devices.
On his blog, Hergert stated, "I want access to my files and application data on all my computing devices but I don't want to store that data on other peoples computers." This idea led Hergert to create Bonsai. Although this tool is very much in the experimental phase (which means it's not an official Gnome project), it is being hosted on Hergert's Gnome GitLab repository.
The gist of Bonsai is simple – a daemon and shared library for providing personal cloud-like services specifically to the Gnome desktop. The goal of the project is to include services such as:
File storage
Mail
Calendar
To-do list/checklist/notes
Photo albums
Music/podcasts/audio books/radio
Videos
Search
Backup
System migration
VPN
At the moment, there is no telling if Bonsai will become an official Gnome application/service, but considering this fills a much-needed hole in the Linux desktop landscape, it's a safe bet that it (or something similar) will become a reality in the near future.
http://For more information, see https://blogs.gnome.org/chergert/2020/01/01/introducing-bonsai/.
comments powered by

Disqus
---
Support Our Work
Linux Magazine content is made possible with support from readers like you. Please consider contributing when you've found an article to be beneficial.
---