FOSSPicks
Modal text editor
Helix
Keeping with text editors, but moving away from the Java GUI of KeenWrite (above) to the command line, Helix is a self-described "post-modern text editor" for programmers. Post-modern in this sense seems to mean doing something different from the long-accepted ways of editing, and that difference is working on multiple selections at once – a process also known as modal text editing. We've seen this before in an editor called Kakoune. Helix is similar, but its implementation of the same idea feels more endemic to the application. Multiple selections are made by first selecting everything using the % key, then using the s key to enter a regular expression and pressing Enter to fix the results. You can then perform an action on that multiple/modal selection, such as pressing d to delete whatever is selected or even move the now multiple result cursors with h, j, k, and l.
This sounds intimidating, but the editor isn't hard to use. Being on the command line, it does assume you're familiar with other command-line editors, such as Vim, and even mimics some of Vim's keyboard shortcuts. Unlike Vim (and like Kakoune), however, many of the commands are reversed to reflect the selection bias. Instead of dw to delete a word, for example, you press w to highlight the word and d to delete it. This feels more intuitive than Vim, especially when you start to understand the multiple selection potential. Helix lists all the commands available within a lower panel, complete with help text; you can select these commands using the cursor keys, so you don't need to remember the shortcuts manually. Similarly, the documentation lists all the possible commands on a single page, so it's worth keeping this open as you learn the basics. Editing in this way quickly becomes intuitive, and you can always undo a mistake. On top of this, syntax highlighting looks fantastic, and there's context-aware code completion. It's also very light on system resources, performant, and runs perfectly in a remote shell. Give it a try!
Project Website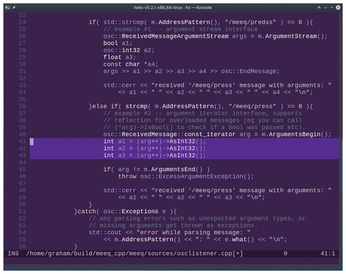 In a pleasant contrast to many terminal text editors, Helix is purple by default. This can of course be changed, but we liked it.
Music distro
comments powered by

Disqus
Visit Our Shop
Direct Download
Read full article as PDF: