FOSSPicks
ChowTapeModel
ChowTapeModel is one of several exceptional audio effect plugins developed by Chowdhury DSP and released for free under an open source licence. Alongside ChowTapeModel, Chowdhury DSP offers a delay effect (ChowMatrix) and virtual guitar effects pedal (ChowCentaur). ChowTapeModel does something that would have been inconceivable not so long ago when many of us were desperately trying to leave the noise and distortion of tape recordings behind for the crystalline perfection of digital reproduction. During this transition, it became apparent that while digital audio was unmistakably more accurate, with more dynamic range, less noise, and no variance, something had been lost in translation: a certain kind of analog warmth and imperfection. ChowTapeModel tries to add this analog warmth and imperfection to your digital recordings.
The algorithm behind the effect has been carefully engineered to algorithmically model the characteristics of a real tape machine, the Sony TC-260 from the 1970s. The plugin features many controls that reflect the various configuration options for the original machine, such as tape head alignment and the speed of the tape itself. There are also controls for the amount of saturation and distortion you want to add. These equate to changes in tone and slight distortion, as well as wow and flutter to emulate slight variations in the virtual tape playback. Very subtle adjustments to these values can genuinely turn your digital recording into something that might have originally been recorded on tape, with the sound often becoming smoother, more rounded, and less separated. Different configurations sound better for different types of music, and you can save presets to quickly switch between them. It works well on rock and pop music, but it can also improve your own recordings by acting as a mastering effect to glue a mix together.
Project Website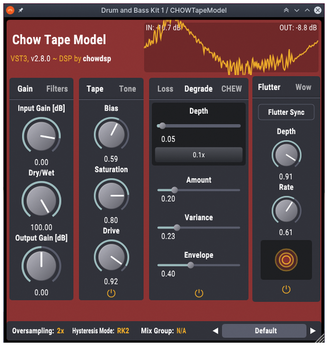 This tape emulation effect works well for rock and pop, but it can also improve simple recordings such as voice for a podcast.
Mouse configuration
Piper
This is really two FOSSPicks in one. The first part is the ratbagd DBus daemon, a background service that helps expose configuration options for specific input devices that would otherwise require a manufacturer-provided driver. It specializes in gaming mice, and much like OpenRGB, ratbagd developers have painstakingly decoded the various protocols required to unlock undocumented and proprietary features outside of their standard driver support, scaling modes, and unused buttons. There's support for more than 50 devices, including a majority of devices from Logitech and a few from SteelSeries, among others. There is a command-line tool that can help you configure those devices, but for best results, you'll want to use our second FOSSPick for this entry, the Piper GUI.
Piper is a modern GTK-based GUI for configuring the options exposed by ratbagd. Its features will depend on your hardware's capabilities, but broadly, it lets you change tracking resolutions, reassign buttons and scroll wheels, and change the colors of any LEDs. You switch between the three main options using buttons at the top of the window, and the main view updates depending on which mode is selected. The main view will helpfully show you a diagrammatic representation of your mouse, complete with annotations for each of its configurable parts. If a button is assignable, for example, clicking its annotation will open up a list of actions it can be assigned, from the normal left, right, and middle mouse clicks to ratchet modes, sensitivity, and even your own keyboard shortcuts. It's a powerful tool for gaming, where a single button can now send a flurry of keys, but it's also useful on the desktop where shortcuts can be set for switching desktops, copying and pasting, and launching a terminal.
Project Website
https://github.com/libratbag/piper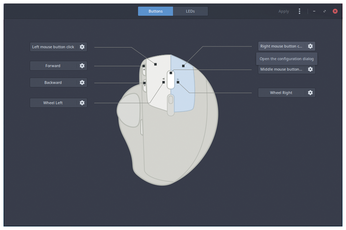 Piper is just as brilliant at configuring gaming mice as it is Logitech's more desktop-oriented trackballs.
comments powered by

Disqus
Visit Our Shop
Direct Download
Read full article as PDF: