In the Hearts of the South - Two great conferences

Paw Prints: Writings of the maddog
Mar 16, 2010 GMT
Extreme Austin! - The Texas Linux Fest!
Austin, Texas! Home to live music, great food, a world-class University (U of T) and the longhorns!) and IBM's Linux Technology Center is a great place to have a Linux Fest, and that is what is happening on April 10th, 2010.
For just one day the Linux Faithful are going to descend on Austin with a packed program that ranges from beginner subjects to those that would teach the experts in FOSS. After forty years in computer science (and most of those years using what most people would call today "Open Source"), I still find it is impossible to keep up with every aspect of it, so you will probably see me slip into a few of these talks to both learn what is going on and to talk face to face with some of the developers and people advocating their software's use.
These one and two day Fests put on by volunteers are a great way to meet people you may have only engaged over the Internet, or to make new friends and renew old friendships. Most old-timers still talk about the "hallway tracks", meaning the meetings you have with people that you meet in the hallways rather than those you meet in the meeting rooms, as the most important sessions.
Keynote speakers include Joe "Zonker" Brockmeier and Randal L. Schwartz, with additional presentations by Linux, free software, and open source experts such as Amber Graner, Bradley Kuhn, and Max Spevack. My good friend Dustin Kirkland, who now works for Canonical, will be giving a talk on Ubuntu's cloud computing that I do not want to miss. I will be talking on Project Cauã, hoping that in the state capital of Texas I can find at least one U.S. legislator that believes in jobs for the private sector.
I still remember the first time I went to Austin. It was in 1998 and companies like IBM were "getting serious" about Free Software. I was invited to an internal IBM meeting in what was to become the Linux Technology Center.
I gave a talk about why Linux and Free Software mattered, and why closed source, proprietary software was not going to meet the customer needs of the future, and how engineers "just naturally" wanted to share what they had done.
After I gave my talk the managers asked me to go to a separate room while they presented IBM's plans for the future. After a while I left my room to find a bathroom and while passing through the back of the stage I looked up to see a projection of a letter from Lou Gerstner. That letter said that IBM in the past had been a closed source company unless someone had made a business case for the software to be "Open Source", but in the future IBM was going to be an Open Source company unless someone made a good business case for the software to be closed source. I remember the shock I felt at seeing that letter and realizing that Free Software, at least at IBM, had "won"....they understood the model and the reasons. In the intervening years I have been back to the Austin Center several times, including times that IBM has been a major sponsor of various Linux meetings for the Linux Foundation. I hope to visit IBM again on this trip.
One of the other visits I am surely going to make is to "Tears of Joy Hot Sauce Shop" on the far end of 6th Street. They have a great selection of hot sauces and other "hot" products. You can sample quite a few of them, and Brian Rush, the proprietor, often offers locally made hot sauces....which has inspired me to revive the concept of "Extreme Linux".
The concept and drawing of "Extreme Linux" was first developed to honor the development of Beowulf systems by Don Becker and Dr. Tom Sterling of NASA. The Tux on the snowboard was first drawn by a creative genius friend, "Lectric Bill" Pridgen of EBC Creative Services (Raleigh, North Carolina) who did a lot of the early "Tux based" art for Red Hat, Linux Magazine and others. "Lectric Bill" (or "EB" as I call him) is a "good ole boy" who also drew what is probably my favorite Tux picture of all time "Jimi Tux".
For the Beowulf systems I knew that the concept of "Extreme Linux" was HOT and at the same time creating a supercomputer out of inexpensive commodity-based systems was COOL, so I found a picture of a teenager doing a fly-over on a snowboard, and Bill took it from there and created the "Extreme Linux" logo. I made a bunch of temporary tattoos out of the logo and gave them out at a lot of conferences.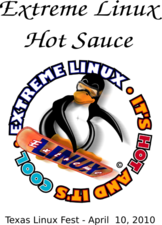 In short supply!
Now, in honor of Austin's Texas Linux Fest I have created an "Extreme Linux Hot Sauce" label from the same design and have asked Brian to think of a hot sauce that might go well with the concept of "Hot and Cool". He has risen to the occasion, and I will have a few bottles at the Fest with the "Extreme Linux" label on them. Brian says that others can order the sauce through his web site by ordering the "August in Austin" hot sauce and by marking in the customer notes "Extreme Linux Edition" you will get a bottle of very hot, very tasty hot sauce with our own favorite mascot on it. After all, Austin is a town of good food, good music, and good Free Software. Now it could also be the home of "Extreme Linux Hot Sauce".
Please note that the sauce is in limited supply and can not be shipped outside of the United States. Label may change slightly due to manufacturing considerations.
Palmetto Open Source Software Conference - POSSCON
I told you before that I love community Fests, and in "The Heart of the South" (as the organizers call Columbia, South Carolina) POSSCON is having their THIRD annual Open Source Software Conference. Now there seems to have been some confusion as to whether it was the second or the third edition, since on the POSSCON home page they have "second" crossed out and "third" written in, but that is just an example of the type of fun you have at these events.
POSSCON is a three day event, April 15th, 16th and 17th, 2010, but don't think that POSSCON 2010 is "just" a three-day version of the Texas Linux Fest.
POSSCON has a whole different focus, with the goal of attracting serious business people from the four-state area (South Carolina, North Carolina, Georgia and Florida) who wish to learn about FOSS.
First you have to look at POSSCON's conference committee. They have Chairs of Computer Science departments at universities, CIOs and CEOs of various organizations involved. They have different User groups involved from the surrounding state area. They have Bob Coble, the Mayor of Columbia, South Carolina involved in the planning. The fact that these people are involved in this event means that business has realized the benefits of FOSS.
Secondly, look at the speakers. I have not seen so many "C"s since the Civilian Conservation Corps.
The first day, April 15th, will focus on providing education and awareness to CIO's, CTO's, CFO's, and CEO's of all types and from business and government sectors. This is a chance for the FOSS advocates to get their managers and legislators trained on the benefits of FOSS. I will point out that Bob Coble, the mayor of Columbus, has been active in helping to plan this event. He and Robert X. Cringely, the well known author, columnist and self-proclaimed sex symbol will be giving the opening keynote address on this day. I have been following Robert's columns for years, and no matter if you agree with him or disagree, he is always a good read and makes you at least stop and think about things. I have to make sure I bring a few of Robert's books for him to autograph.
After the opening keynotes the session stream breaks down into multiple sessions of business, business, business (yes, government is "business" too) about how FOSS can either make money or save money, while giving more control over your software.
All of this is followed by a cocktail hour to "unwind and network" with an Open bar! [I hope by "Open" they also mean "Free".]
The second day, April 16th will be oriented toward Education and Developer/Programming side of open source software. For those trying to educate students (or as students, be educated) and trying to administer schools and universities, this is your day.
The third day, April 17th, is devoted to longer sessions around FOSS training. Topics such as Moodle, Git and Github, Google Docs and Drupal will be offered. I think I am going to hit up the Drupal training session.
My friend, "Lectric Bill" has agreed to meet me at POSSCON, and I can assure attendees that an interesting time will be had by all. I may even bring along a few bottles of "Extreme Linux Hot Sauce" from Austin.
Carpe Diem and pass the hot sauce!
comments powered by

Disqus
---
Support Our Work
Linux Magazine content is made possible with support from readers like you. Please consider contributing when you've found an article to be beneficial.
---