Gartner: Weak 2009 Mobile Market Outside Smartphones
Mar 03, 2010
Gartner reported a steep growth for the smartphone market. Linux loses. Android still gains, but producers mistrust Google's intentions. Symbian can't rest on its laurels.
Altogether around 1.2 billion mobile phones found users in 2009, close to a percent less than in 2008. However, the fourth quarter of 2009 started looking good, with more than 340-million mobile phones sold, about 8 percent more than in the same period the previous year. Above all, smartphones and conventional phones sold well at year's end, especially smartphones. In 2009, smartphones sold almost 25 percent more than in 2008, with a 40 percent increase in the fourth quarter alone. Market leader in mobile phones was Nokia and its Symbian. Coming up from behind in 2009 were Samsung as manufacturer, and Android and iPhone OS as platforms.
Next to Nokia (at 36 percent) in mobile phones came Samsung (at 20 percent), LG (at 10 percent), Motorola and Sony Ericsson (at close to 6 percent each). The first and the latter two showed some percentage point losses compared to 2008, giving the points over to Samsung and LG. Gartner analysts predict a "rough first half of 2010" for Nokia. Due to competition, the Finnish mobile giant has had to lower its prices steadily and is anticipated to profit from the new MeeGo platform only in the second half of the year. Nokia is strong in mid-range phones, which promises little danger for its market share in that area. However, Gartner believes that Nokia's high-end devices may suffer, resulting in an overall lower market share for the company.
Symbian, which recently became totally open source and showed progress with versions 3 and 4, had with its almost 47 percent of all installations the lion's share of operating system installations. However, compared with 2008 it amounted to a 5 percent drop. In second and third place among the most installed platforms were the Blackberry OS (at 20 percent) and the iPhone OS (at 15 percent). Both added a few percentage points in 2009, the Blackberry 3 percent and the iPhone 6 percent. Windows Mobile was barely at 9 percent market share in 2009, losing 2 percent from 2008 and ceding the bronze to Apple. Linux had similar results. Gartner cites a barely 5 percent share for Linux in 2009, compared to almost 8 percent in 2008. Android grew from a half percent to almost 4 percent and is, by Gartner's reckoning, the growth winner of the year, next to the iPhone OS. WebOS, which has been around since early 2009, has grown with less than a percent share but nevertheless counts among the top seven.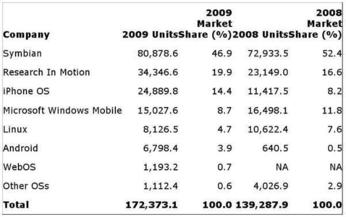 The iPhone pushed Windows Mobile out of third place, Linux loses and Android wins market share. (Chart: Gartner Group 2010)
Gartner sees a special opportunity for Nokia in Symbian. It has lagged behind the competition over the last few years, but is being installed on more devices. "If Symbian can use this momentum, it could return to positive growth," said a Gartner research analyst. Android, on the other hand, may see storm clouds, because some mobile service providers and device makers are having misgivings about Google's intentions in the mobile market. "If such concerns cause manufacturers to change their product strategies or CSPs to change which devices they stock, this might hinder Android's growth in 2010," continued the analyst.

According to Gartner, 2010 is expected to remain strong in operating systems, services and applications, with less interest in hardware. Growth is expected to return to double digits, but competition will continue to bring lower margins.
comments powered by

Disqus
---
Support Our Work
Linux Magazine content is made possible with support from readers like you. Please consider contributing when you've found an article to be beneficial.
---