Issue #236 / Jul 2020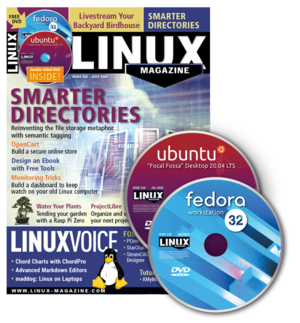 DVD: Fedora 32 workstation and Ubuntu Desktop 20.04 LTS
Approximate on sale dates:
UK/Europe: Jun 13
USA/Canada: Jul 10
Australia: Aug 10
Highlights:
The rigid structure of nested files and directories used on computer systems around the world was created more than 60 years ago, and experts believe we can do better. This month, you'll learn about some scripts for semantic file tagging in Linux.
Also inside:
Manage personnel and projects with ProjectLibre
Build an e-commerce solution with OpenCart
Turn to MakerSpace if you've always wondered how to water your plants with a Rasp Pi, and check out LinuxVoice for a tour of two useful Markdown editors.
The New Mall
Walmart purchased Jet.com in 2016 with the usual fanfare that comes from a $3.3 billion corporate purchase. Jet.com was an up-and-coming online company, only a year old, that was trying to get an edge on the retail market by offering an innovative discount system and improving the distribution chain.
Ubuntu 20.04 Desktop and Fedora 32
In the news: Linux Usage Is on the Rise; Lenovo Is Jumping on the Linux Laptop Bandwagon; A New Linux Laptop Is in the Making; Ubuntu 20.04 Released; and Git 2.26 Released.
This month Zack discusses adapting to COVID-19, and l33t security.
Reinventing file storage with semantic tagging
Assigning file names based on defined criteria saves time and maximizes your chances of finding the file later.
How Linux distributions are fighting COVID-19
Several leading Linux distributions are taking steps to address the challenges of the COVID-19 pandemic.
Solving a classic interview problem with Go
Springtime is application time! Mike Schilli, who has experience with job application procedures at companies in Silicon Valley, digs up a question asked at the Google Engineering interview and explains a possible solution in Go.
Setting up an e-commerce OpenCart system
With OpenCart, a free, open source e-commerce system, you can put a store online in a matter of minutes.
Designing ebooks with free software
With LibreOffice Writer and Calibre, you can publish your own ebooks with better results than most online conversion tools.
Managing your Debian packages with debfoster
When it comes to weeding out unnecessary packages on your Debian system, debfoster lets you conveniently arrange all your housekeeping functions into a single command.
Charly's Birds
Charly ran a first-generation Rasp Pi for years in the birdhouse in his garden, but the Rasp Pi eventually fell foul of marauding wasps. Now Charly has replaced it with an RPi3 featuring a NoIR cam and motion detection.
IN-DEPTH: bauh
Manage Flatpak, Snap, and AppImage packages with bauh
The bauh package manager can cope with Flatpaks, Snaps, AppImages, AUR, and native web apps.
Monitor your old Linux devices
Create monitoring dashboards with SSH, command-line tools, and Node-RED.
Water your plants with a Raspberry Pi
An automated watering system comprising a Raspberry Pi Zero W, an analog-to-digital converter, and an inexpensive irrigation kit can help keep your potted plants from dying of thirst.
Introduction
This month in Linux Voice.
Maddog examines the complicated relationships between laptop manufacturers, computer stores, and Linux users.
Play along with ChordPro
If you play a stringed instrument and want to record lyrics and chord changes, ChordPro gives you an elegant and convenient approach to getting it all on paper.
Advanced Markdown Editors – Mark Text and VNote
Upgrade your Markdown game! Markdown editors Mark Text and VNote both offer a wide range of tools and options for users who want to get the most out of a text editor.
Innovative desktop environment
Offering a lean desktop, theShell demonstrates what an easy-to-use interface can look like if you think beyond outdated conventions.
Graham Morrison has finally found a Linux-legitimate excuse to invest in virtual reality with the new VR desktop and the now 6,000 Windows games running on Linux with Proton.
Organize your Finances with KMyMoney
Looking for software to help you manage your money? The personal finance program KMyMoney can help you track income and expenses and better plan your financial future.

Issue 237/2020
Buy this issue as a PDF
Digital Issue: Price $12.99

(incl. VAT)