Issue #276 / Nov 2023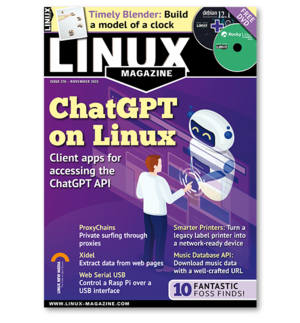 DVD: Rocky Linux 9.2 Minimal and debian 12.1 bookworm
Approximate on sale dates:
UK/Europe: Oct 06
USA/Canada: Nov 10
Australia: Dec 22
Highlights:
Somewhere in Between
No one would accuse us of being a business and finance magazine, but we do cover technology, and the tides of tech often follow the tidings of business events. I sometimes wonder if our discussions of business sound as fluffy to business people as a business magazine's discussion of tech sounds to us. The reference frames are so different, and the truth is usually hidden somewhere in between.
Rocky Linux 9.2 and Debian 12.1
In the news: KSMBD Finally Reaches a Stable State; Nitrux 3.0.0; Linux From Scratch 12.0; Linux Kernel 6.5; UbuntuDDE 23.04; Star Labs Reveals a New Surface-Like Linux Tablet; SUSE Going Private (Again); Devuan GNU+Linux; CIQ, Oracle, and SUSE Form Alliance to Thwart Near-Closing of the RHEL Source; and Rolling Release Rhino Linux.
In Kernel News: Removing the Thorn and What Do You Do When There's Nothing to Do?
Accessing ChatGPT from the desktop or the Linux command line
Do you think ChatGPT only works in your web browser? You can also access the global chat phenomenon from your desktop – or even from the Linux command line.
Bringing distros together on the same desktop
blendOS uses container technology to allow different distributions to coexist on a single desktop environment. Bruce talks to Rudra Saraswat, blendOS's 13-year-old developer.
Using a Raspberry Pi to put a legacy printer on the network
Niche hardware from the olden days does not always embrace the network. Attaching a Raspberry Pi or other single board computer can add lots of new functionality.
Editing and displaying advanced file attributes
The chattr and lsattr commands offer users a convenient way to modify and display advanced file attributes.
Using a RESTful API to get data from a music database
Craft the perfect URL to access metadata in an online music database.
Anonymity with ProxyChains
If you want to stay anonymous on the web, you don't need the Tor browser or a Tor-based distro like Tails. ProxyChains obscures your presence through proxies – with or without Tor on the back end.
Tracking down hard disk space consumption with Go
This month, Mike Schilli writes a quick terminal UI in Go to help track down space hogs on his hard disk.
An XML, HTML, and JSON data extraction tool
Xidel lets you easily extract and process data from XML, HTML, and JSON documents.
Creating home automation devices  with ESPHome
With an ESP32 or Raspberry Pi Pico W microcontroller board, you can easily create your own home automation devices. Thanks to ESPHome, you don't even have to be a programmer.
Controlling microcontrollers over USB with the Web Serial API
Upgrade your computer with LEDs, buttons, or sensors to control a microcontroller board over USB from your web browser.
This month in Linux Voice and Elvie.
Software Copyright Evolution
From no licenses to too many, software copyright finally made its way to including today's free software designation.
Let Tube Archivist organize your YouTube collection
Tube Archivist indexes videos or entire channels from YouTube in order to download them with the help of the yt-dlp tool.
Build a clock with Blender and Python
With a little help from Blender you can create your own 3D models – including animations. This article shows you how to assemble a partially automated virtual watch model with Blender and Python.
Sparkling gems and new releases from the world of Free and Open Source Software
Graham looks at Graphite, retrogram~rtlsdr, Piano Forte, OneTrick SIMIAN, The Command Line Murders, and more!
Creating backups with Duplicati backup software
Duplicati lets you create backups of your data in next to no time – both locally and in the cloud.
---
Support Our Work
Linux Magazine content is made possible with support from readers like you. Please consider contributing when you've found an article to be beneficial.
---