Backing up and restoring your system using Systemback
Dangerous Stimulants
You might need to resort to your Systemback backup one day if your system no longer works smoothly. However, it is not always reliable if the system has sustained major damage. You should therefore completely back up the data storage device beforehand (e.g., using Clonezilla). Systemback is not much use if a physical fault occurs, either.
To attempt recovering the system, connect the data storage device to the computer and select System repair in the main window. Next, at the very top of the new dialog (Figure 10), choose the partition you want to repair.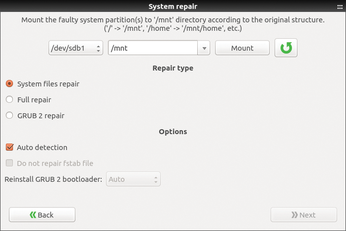 Figure 10: Systemback will try to repair the /dev/sdb1 partition, which is where the root filesystem is located (/mnt).
At this point, you need to remember in which directory the partition is normally mounted. If, for example, it contains the home directories, this would be /home. Then, add /mnt in front of the directory name in the text field. For a home partition, then, /mnt/home is created. By clicking Mount, Systemback subsequently mounts the partition in the current system. On the left, now, you can choose what Systemback should repair and conclude by clicking Next to continue.
Finally, Systemback provides a System upgrade function that simply calls apt-get dist-upgrade in the background and thus tries to update the system. Systemback opens a terminal window in which, every now and then, you need to confirm package installations.
Conclusions
Systemback tries to replicate Windows restore points. Thus, it is not suitable for use as your only backup program, nor does it replace image tools such as Clonezilla. Additionally, it only saves the operating system state; documents are not included. The tool is therefore especially suitable for users who like to try new software or for software developers who continually have to return to a particular state.
The restore points are also interesting when combined with the clone function: Almost at the push of a button, you can duplicate the current system to another disk. The installation option helps you if you want to set up a series of computers identically in a single step – in a classroom, for example.
comments powered by

Disqus