Tracking appointments and tasks with Task Coach
Toolbars
You can enable many features in Task Coach from the menus or by clicking icons in the button bar. To help you use Task Coach efficiently, the developers offer the option of customizing the three button bars. To do this, just click on the small gear icon on the right side in each bar. This step opens a two-pane options window; all the available buttons are listed in the left half, and the activated symbols are listed on the right.
After selecting the desired tool icons, you can activate them, or remove them from the toolbar, by clicking on one of the two arrow buttons at the center of the window (Figure 6). Adding the functions you most frequently use to the relevant button bars can help you use the software very quickly without needing to browse the menus.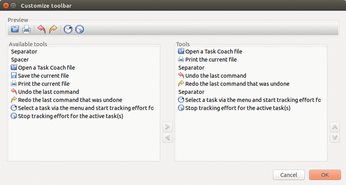 Figure 6: The toolbar can be customized in great detail in Task Coach.
Conclusions
Task Coach gives users a quick and reliable option for finding their way through the task management and appointments jungle. The software is stable and easy to use after a short learning curve, even without studying the manual. Task Coach's integrated billing function will prove beneficial to freelancers who need to invoice their customers for their working hours. And, thanks to the integrated print function, you can document all your important data on paper. These features make the software very useful for users who have a well-filled schedule and therefore need an effective time management tool.
comments powered by

Disqus