Make it Better
Welcome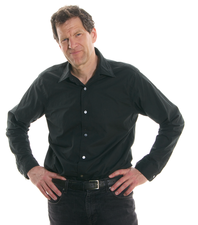 Sir Tim Berners-Lee has something to say about the state of the World Wide Web. What does he know about the Web? Lots, because he invented it.
Dear Reader,
Sir Tim Berners-Lee has something to say about the state of the World Wide Web. What does he know about the Web? Lots, because he invented it.
Berners-Lee was working as a fellow at the CERN lab in Geneva, Switzerland in 1989 when he noticed that, if the people working on hypertext and the people working on TCP/IP networking would get together, the result might be something very interesting. He wrote the first web browser, and the first web server, and he helped develop the specification for the magic string we know today as a URL. He also founded the World Wide Web Consortium and has been active in developing and popularizing the web ever since.
So when Tim Berners-Lee has something to say about the web, we would be wise to listen. Berners-Lee posted a message [1] at the webfoundation.org site to mark the 28th anniversary of the web. In the post, he wrote, "I'm becoming increasingly worried about three new trends, which I believe we must tackle in order for the web to fulfill its true potential as a tool which serves all of humanity."
The three trends that worry Tim Berners-Lee are:
We've lost control of our data – the dominant business model for the web calls for free content in exchange for personal data, and we have very little control over how that data is used.
It's too easy for misinformation to spread on the web – the pay-per-click model that search engines and social media sites use for compensating content providers emphasizes sensationalism over accuracy, meaning that "…misinformation, or 'fake news', which is surprising, shocking, or designed to appeal to our biases, can spread like wildfire."
Political advertising online needs transparency and understanding – algorithm-based ad services can manipulate the information provided for individual voters in complex ways, warping the context for electoral decisions.
Although no solutions for these vast and intractable problems appear on the horizon, the first two issues have received significant coverage in the press – including plenty of attention in this column you are now reading. The third issue has received comparatively less attention, and Tim Berners-Lee deserves credit for adding the important topic of online political advertising to the conversation.
According to Berners-Lee, "The fact that most people get their information from just a few platforms and the increasing sophistication of algorithms drawing upon rich pools of personal data, means that political campaigns are now building individual adverts targeted directly at users. One source [2] suggests that in the 2016 US election, as many as 50,000 variations of adverts were being served every single day on Facebook, a near-impossible situation to monitor. And there are suggestions that some political adverts – in the US and around the world – are being used in unethical ways – to point voters to fake news sites, for instance, or to keep others away from the polls."
According to the post, the Web Foundation is working on a five-year strategy [3] to address these issues by "researching the problems in more detail, coming up with proactive policy solutions, and bringing together coalitions to drive progress towards a web that gives equal power and opportunity to all." The group plans to explore a variety of options, including alternative revenue models, data pods for protecting personal information, and mechanisms for encouraging gate keepers such as Google and Facebook to combat misinformation.
The scope and depth of these problems makes it difficult to believe that one think tank of open web advocates will be able to solve them all alone, but the real work begins with churning up new ideas and starting to talk about them. Thanks to Tim Berners-Lee and the Web Foundation for daring to dream of a better, healthier web.
Joe Casad, Editor in Chief
comments powered by

Disqus