Edinburgh 2018
Open Source Summit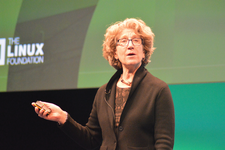 The European leg of the Open Source Summit took place at the Edinburgh International Conference Centre on October 22-24, 2018. The conference was co-located with the Embedded Linux Conference and the OpenIoT Summit.
The the Open Source (OS) Summit [1] kicked off when Jim Zemlin, Executive Director of the Linux Foundation, gave a general introduction to the state of open source software. Throughout the conference, Jim made several more appearances, with helpful updates on what was happening each day.
Keynotes
On the first day, Shuli Goodman delivered her keynote, "Wanted, 10,000 Developers to Electrify the Planet." She is Executive Director of LF Energy, a Linux Foundation open source coalition to "… accelerate and transform the world's relationship to energy" and make the planet more energy efficient. For more information about this talk and others, have a look at the Linux Foundation slides page [2].
The keynote speech by Arjan van de Ven, Intel Fellow and Director of Linux Systems Engineering, was about "Software-Defined Everything." He stated that in a software-defined world, with a feature added here and a feature added there, the development model breaks down, requiring a complete rebuild of the software stack. Because any use case in the cloud begins with Linux, he used his "passion project," Clear Linux, as the Linux distro at the bottom of this new stack and Acorn, a functionally safe and capable hypervisor, as the isolation layer of the new vertical stack integration.
Jonathan Corbett, Executive Editor for LWN.net and a kernel developer, presented the kernel report, in which he gave a brief summary of recent kernel releases. He noted that more than 13,000 changes have taken place in the kernel in the past 12 months and that breakdowns in the 4.15 development cycle were caused by Meltdown and Spectre hardware vulnerabilities. Unlike the Meltdown solution, which had patches in the pipeline when it was disclosed, Corbett explained that the Spectre fixes were completed in secrecy and in isolation instead of in the usual way, in which a team of knowledgeable people are gathered together and given the information they need to effect a solution. The results were different solutions by multiple distributors, none of which survived in the mainline kernel, and developer burnout and frustration. The hope is that lessons have been learned.
One Tuesday morning keynote speaker was Eric Berlow, an ecologist, network scientist, and Cofounder and Chief Science Officer of Vibrant Data. Berlow is internationally recognized for his research on ecological complexity, and his two TED talks on finding hidden patterns in complex data have received more than 2 million views. In his keynote speech, "The Future of AI is Data … In More Ways than You Think," he said "It's not about the algorithms; it's actually all about the data." While acknowledging such problems as biased facial recognition software and the non-transparency of AI algorithms, which he notes were pointed out in the book Weapons of Math Destruction by Cathy O'Neil, he argued that "healthy AI depends on a healthy data ecosystem." He then gave some examples of how the data behind complex algorithms give unexpected, even biased results. You can see his talk and others on the OS Summit YouTube channel [3].
On Wednesday morning Alexander Nitz, a researcher at the Max Planck Institute for Gravitational Physics, presented "Astronomy with Gravitational Waves," an excellent example of open science with open source software.
Presentations
In addition to other keynotes, the conference was filled with high-quality presentations about just about anything you might think of in the world of open source software. One of the more interesting presentations by Andrea Grandi, "Lessons Learned Open Sourcing the UK Government," was about the challenges and problems of moving the UK Government Digital Service to open coding.
Ben Hall took to the stage to talk about Katacoda container security. His talk, "Three Years of Lessons from Running Potentially Malicious Code Inside Containers" was an interesting account of his involvement in the world of DevOps and containers and how the Live environments for cloud-native technologies are vulnerable through the web browser, with the possibility of malicious code being executed from inside the container. He addressed how to monitor and secure these systems and how to prepare for attacks.
The "Debian & Yocto: State of the Art" presentation by Kazuhiro Hayashi, Toshiba Corporation; Manuel Traut, Linutronix GmbH; and Baurzhan Ismagulov, ilbers GmbH, addressed how the Debian distribution is used in the industrial environment for building GNU/Linux-based products, joining together the benefits of existing distributions and tools. Specifically, they spoke about a collaboration in building the Debian-based products ELBE, an embedded Linux build environment, and Isar, an image generator for embedded systems, which both use Deby, a Linux distribution for embedded systems.
The rest of the conference was packed solid with fascinating talks, such as "Coccinelle: 10 Years of Automated Evolution and Bug Finding in the Linux Kernel" with Julia Lawall of Inria, "10 Years of the Industrial I/O Kernel Subsystem" with Jonathan Cameron from Huawei, and "Establishing Image Provenance and Security in Kubernetes" by Adrian Mouat of Container Solutions, among many others too numerous to list here. As usual, participants got to attend many social events that always take place at OS Summit.
comments powered by

Disqus