A distro for moving from Windows/Mac OS to Linux
Migration
If you are looking to migrate from Windows and Mac OS to Linux, but still need Windows compatibility and applications, Zorin OS might be the solution.
With its release of Zorin OS 12.4 in August, Zorin OS [1] positions itself as an alternative to Windows and Mac OS, "designed to make your computer faster, more powerful, and secure."
When a distribution makes such a claim, it could mean several things. Most distributions stop at skinning the theme to resemble Windows XP, without actually bringing in support for the Windows ecosystem.
Users are attracted to such distributions, but it leads to buyer's remorse when they cannot bring their existing workload to Linux.
I have been migrating users from Windows to Linux for the last 13 years. I moved my wife to Ubuntu and eventually Chromebook. In my experience, what really helps people migrate from one platform to another goes beyond look and feel. It's more about ease of use and the ability to bring your existing workload to the new platform.
I looked at Zorin OS from three perspectives: support for Windows applications, compatibility with Windows, and ease of use.
A Doorway into the Windows World
Since Zorin specifically courts Windows and Mac OS users, it has created tools that can mimic Windows 10 or Mac OS layouts with one button. The idea is not to copy the layout but to offer a familiar interface that makes users comfortable.
The paid version, Zorin OS Ultimate (more discussion about this version later), comes with the Zorin Appearance tool, which includes six layout options: Windows (two layout options), Gnome 2, Ubuntu Unity, Gnome 3, and Mac OS (Figure 1).
Figure 1: Zorin OS Ultimate edition offers customized layouts to mimic the look and feel of Mac OS and Windows.
"If you're familiar with Windows, everything will be right where you remember it – from the start menu to the taskbar – so you don't need to learn anything new," explained Artyom Zorin, cofounder and CEO of Zorin Group. "If you are more familiar with Mac OS, you can open the Zorin Appearance app to change the entire desktop layout to resemble Mac OS in a click."
Unfortunately, Zorin OS doesn't include icon themes that resemble those themes found in Windows 10 or Mac OS, apparently due to copyright and legal issues. However, users can safely download and install the desired themes from Gnome-Look.org. Just extract the downloaded .zip file and copy the extracted folder to /usr/share/icon and /usr/share/themes:
# rsync -avzP /home/swapnil/Download/theme.zip /usr/share/themes/
# rsync -avzP /home/swapnil/Download/theme.zip /usr/share/icons/
Then, change the theme with the Zorin Appearance tool or Gnome Tweak Tool. It's that simple.
Windows Apps on Zorin
A Windows or Mac OS user won't be content with just the familiar look and feel. One of the reasons people choose a platform is the availability of the apps they use. It could be just one app that they use once in a while; it could be Microsoft Office or some tax app.
Zorin OS comes with PlayOnLinux, a third-party front end for Wine, that makes it easy to install and manage supported Windows applications in Zorin. Wine has a very comprehensive catalog of supported Windows apps.
Installing any Windows 10 app on PlayOnLinux is very easy. Open PlayOnLinux and search for the desired application, such as iTunes 12. Click on the Install button and PlayOnLinux will download all required packages and create a virtual drive for iTunes in Wine. PlayOnLinux doesn't offer the actual app, as this could lead to legal issues. You need to provide the official app's executable binary, which you can easily download from the official source. (A caveat: Never download apps from random websites.)
I don't rely on Windows 10 apps, but for the sake of testing, I tried iTunes. iTunes 12.13 is the supported version, which you can download from Apple [2].
When prompted by PlayOnlinux, just point to this .exe file. It will open Wine, where you select Windows 10 as the target platform. Click Next on PlayOnLinux, and you will have iTunes running on your machine. Take a moment and think about it: You are running an app created by Apple for Windows 10 in Zorin OS (Figure 2).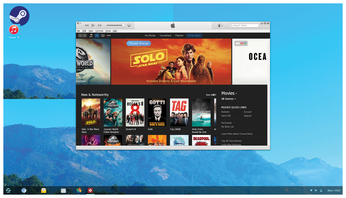 Figure 2: iTunes running in Zorin OS using PlayOnLinux and Wine.
PlayOnLinux/Wine, in my experience so far, is a good solution for running certain legacy applications that people still need. It's certainly not capable of installing modern applications like Adobe Creative Cloud suite, but Wine is getting better with each release.
Valve Software, the company behind PC game distributor Steam, has put its weight behind Wine and created a modified version of Wine called Proton [3] to bring popular Windows games to Linux. Distributions like Zorin OS benefit from this work as it means support for more Windows apps. It also means Windows users can now run some of their favorite games in Zorin OS!
"The Wine team has put in a lot of effort into supporting apps like Microsoft Office 2013 in the latest versions, and Office 365 looks like it'll have great support in Wine 4.0. This release cycle is getting amazing new support for Windows games since it was recently revealed that Valve Software has been funding the Wine project this year," said Zorin.
The Cloud's Silver Lining
The good (or bad depending on how you look at it) news is that most applications are moving to the cloud, and the cloud is OS agnostic. Linux users can enjoy the same cloud experience they get on Windows 10 and Mac OS.
All cloud-based applications, including Office 365, Adobe Lightroom, Apple's iCloud, and Apple Pages, are accessible in Zorin OS, without a workaround (Figure 3).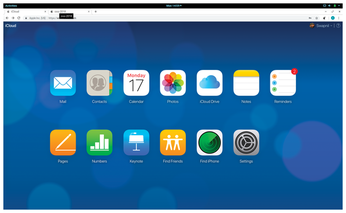 Figure 3: Cloud-based apps, like Apple's iCloud, run on Zorin OS without the need for a workaround.
comments powered by

Disqus