Plan and perform your daily tasks
Coffee Break
If you want to take a break, just press the Pause button in the lower right corner of the Timer window. You can restart at any time with the same timer status.
If you need to interrupt a task unexpectedly, you can exit the current task by pressing Skip. The software now pauses the timer and simultaneously displays a message from the working environment's system tray letting you know that you can now take a break.
To end the break, click on Skip again. The software now displays a message confirming the end of the break in the system tray for a few seconds. You are then returned to the Timer display with the current task and the allocated time. If you press Start instead of Skip, the timer resets and counts down the full time defined in the settings.
Done!
The application collects the completed tasks as a list in the Done window. The program displays these tasks in strikethrough text and with a check mark in the box to the left of the task. If you click to uncheck, the entry is reactivated and moved to the To-Do window.
This function is particularly useful if you need to complete the same task more than once. In the list of completed tasks, however, a task that has been completed several times is only shown once (Figure 4).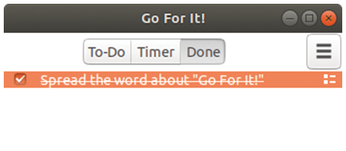 Figure 4: Go For It! displays all the completed tasks in strikethrough text.
Since the list of completed tasks can become very long, the tool offers the option to empty the list completely at the push of a button. The Clear Done List option is available in the settings for this purpose.
The software usually saves the completed tasks after closing the program so that the old data can be seen again when the program is reopened. This is useful for repetitive daily tasks that you can transfer from one list to the other as shown. Only the timer is reset, as it always starts with the value defined in the settings.
Mobile
Go For It! is available for different platforms: There is a smartphone app and PC versions. If you use Go For It! on more than one platform, you do not need to enter your tasks each time. The software stores completed and pending tasks in simple text files, which it keeps in a defined subdirectory.
The text files are easily transferred when switching between devices, which gives you easy access to the lists regardless of the platform.
comments powered by

Disqus