FOSSPicks
Meme maker
Gifcurry
There is no escaping the humble GIF. Even in the late '80s and early '90s, there was still no escaping the humble GIF, and it's remarkable that these low-quality meme generators have survived so long. You simply can't be both young and online without inserting one into a chat or social network as a shorthand for some indefinite emotional state or exclamation. Gifcurry is an editor for such things. If FFmpeg is installed, it lets you load up almost any video and turn it into your own low-quality synopsis of a feeling – or a kitten playing on a trampoline. As you'd expect, the interface is as garish as the technology itself and feels like it might even have been designed in the early '90s. But this also makes it easy to use. There's a small toolbar that lets you resize or crop the video, upload it to Giphy or Imgur, and even add a text annotation so that you don't have to rely fully on your audience's sarcasm sensors. The text editor has controls for font size and position, and you can add or duplicate as many as you need.
The actual editing controls are beneath the preview pane. These are simple too. There are controls to let you pause and play back your animation, scroll through its various frames, or step through or back one frame at a time. Editing consists of using scroll bars and +/- buttons to set the beginning frame and the end frame of your animation. That's all there is to it! You can't add transitions, merge two or more animations, or use a clipboard palette to store and rearrange your edits. It's quick, painless, and almost dependency free. It's simple, but that's exactly why GIFs are still around and more popular than ever.
Project Website
https://github.com/lettier/gifcurry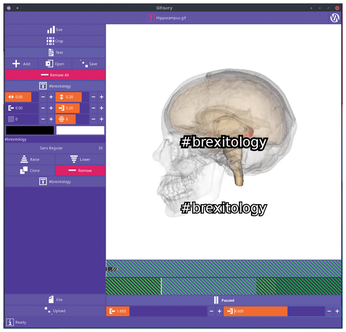 Quickly create your own GIF animations and memes with a graphical tool straight from the '90s.
Sound explorer
comments powered by

Disqus