FOSSPicks
Multiplayer classic
BZFlag
If you first installed Linux in the late 1990s, especially in a university or school lab, one of the first things you might have tried was a game called BZFlag. This was a simple vector game, drawn in lines, and controlled from the player's point of view. You moved within a landscape of simple square buildings that obstructed the distant mountains, where another player would be prowling, waiting to target you in their sights, and blow you into the next level. It was reminiscent of an early vector arcade game called Battlezone, with one big difference: The 1997 release of BZFlag included a multiplayer lobby where you could find games and play on the battlefield with strangers. Despite the retro graphics, it felt incredibly advanced at a time when being online was uncommon.
But what many people don't realize is that BZFlag has been in development ever since, with some major updates, a new website, and both Flatpak and Snap options. The graphics, in particular, no longer look like a retro-inspired tribute to a bygone era. There's no real-time RTX raytracing, but there is texture, modern resolution, and lighting support. You can still run the game in both full screen and "quick, minimize, and switch to spreadsheet" window/working mode. Also, the gameplay is just as fun. You can have dozens of players on the same map, and there's usually a server somewhere in the world you can join or run your own server just as simply from the main menu. You'll also find lots of configuration options to fine-tune how the game runs, and it should run on almost any hardware from the last 10 years, even without a dedicated graphics card. But the best thing about BZFlag is what has kept it under development for so long – it's still a huge amount of fun.
Project Website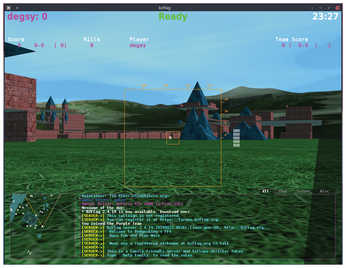 Once a stalwart of every Linux installation, BZFlag can now be installed on Linux, macOS, and Windows, so everyone can join in the fun.
comments powered by

Disqus