On the DVD
On the DVD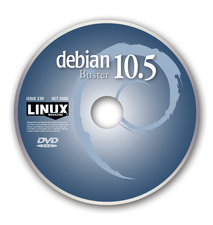 Debian 10.5 and Devuan 3.0
Debian "Buster"10.5
Founded in 1993 by Linux pioneer Ian Murdock, Debian is one of the oldest active Linux distributions. Today, with almost 1,300 developers and 60,000 packages, Debian is also one of the largest. It is the basis of dozens of other distributions, including Ubuntu and Linux Mint, which have become distro powerhouses in their own right.
One of Debian's strengths is its installer. While Debian can be installed in 15 minutes, the installer also offers the option of step-by-step customization. This option makes the Debian Installer ideal for troubleshooting. Sometimes, it can install Linux when other installers cannot.
Another reason to use Debian is that users can choose the amount of software freedom they have. The main section of its repository contains only free software, but users can also choose to use the contrib (free software that depends on proprietary software) or non-free (proprietary software) sections.
Although Debian is not the most cutting-edge distribution, Debian's rigorous testing and fast updates make it the distribution of choice for those concerned with security and privacy. Ordinary users can choose their balance of stability and up-to-dateness by the package repositories they enable: Stable, which contains the current release; Testing, which contains the packages for the next release; or Unstable, which carries new and sometimes buggy packages.
Debian has a reputation for being an expert's distribution, but that reputation is obsolete. More accurately, Debian is a distro for those who like to customize everything according to their preferences.
Devuan "Beowolf" 3.0
Devuan is a Debian fork that was first released in 2018. The reason for the fork was Debian 8's adoption of systemd as an init system. An init system is the first process that begins on Linux. It runs until the machine is closed down and starts other processes. Devuan partly objected to how the decision was made to use systemd, on the grounds that the final decision was made by Debian's Technical Committee. It also objected to systemd itself, on the grounds that it goes far beyond the traditional purpose of an init system to be a manager of the entire operating system.
As a reaction to the Debian decision, Devuan advocates support of multiple init systems. It calls this position Init Freedom, echoing the four software freedoms that are the basis of free software as defined by the Free Software Foundation. During installation, Devuan currently supports the older System V init, as well as OpenRC. Other init systems are also being considered for support. From this preliminary position, Devuan has branched out to advocacy of other free software positions. Its installer, for instance, makes a point of asking if only free software should be supported. In addition, it modifies Debian packages to create its own repositories that are in keeping with its principles.
Devuan will interest those who want to explore alternatives to systemd or are interested in the issues of free software.
comments powered by

Disqus