Toshiba Notebooks with OpenSolaris
Apr 09, 2009
Hardware manufacturer Toshiba has released a series of notebooks with pre-installed OpenSolaris 2008.11.
Toshiba announced two new notebooks with the Sun OpenSolaris platform pre-installed, the 12" Portégé R600 and the 14" Tecra M10. The models are the result of a strategic partnership between Toshiba and Sun Microsystems that began in December 2008. Next to OpenSolaris 2008.11, applications on the notebooks include Sun's own VirtualBox, OpenOffice 3.0, a web stack including MySQL and the Apache Web Server, and Adobe Flash Player. Sun's developer tools are also included: Glassfish V2, Java SE Development Kit, NetBeans and Studio Express. Both notebooks come with Intel Core2 Duo processors, with speeds ranging from 1.4 to 2.53 Gigahertz. The "ultraportable" Portégé R600 has a 160-GByte hard drive, while the Tecra M10 can be configured with up to 320 GBytes.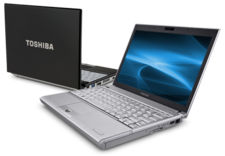 The ultra-mobile 12" notebook from Toshiba is available now in the U.S. pre-installed with OpenSolaris.
The notebooks are currently available in the U.S. at the OpenSolaris website. Prices for the 14" model begin at $1,099. The site also includes an installation and pre-installed recovery guide. The price includes one full year of support from Sun and a three-year warranty. May should bring availability in Britain and other countries should follow. The current ToshibaDirect price listings are for Windows, although the OpenSolaris version prices should be identical.
Comments
It's amazing !!

It's works like charm. Familar GNOME with compiz effects works wow. Automatic snapshots for backup is icing on cake. Plus it have all the bells & whistles of Ubuntu like package manager which is easier than ubuntu.

I want to try it !!

Although I'm pushing a lot for Linux, I'm also open to OpenSolaris. Add OpenOddice and VirtualBox, chances are that they will work well together. Then, and only then, I would run Windows as a VM.

Hope they work better than mine with Ubuntu

I really hope they work better than my wal-mart cheapie Toshiba laptop does with Ubuntu 8.10. It takes 3 times longer to wake up from suspend than it does to boot and the WiFi Never does come back online. My Acer laptop, purchased at a LOWER price point, has none of these issues with Ubuntu. Also, Thanks Linux Mag for a Turring test that I can actually read. Some others are getting harder and harder to read.
comments powered by

Disqus