Issue #52 / Mar 2005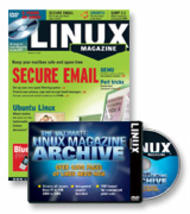 DVD: The Ultimate Linux Magazine Archive
Dear Linux Magazine Reader, Two months ago, you may have noticed a change to our cover design. As we announced in t......
RED HAT GOES INDIC HOW SANTA NEARLY BROUGHT MICROSOFT DESKTOPS LEARN AND LOCALIZE OPEN SOURCE BELGIAN STUDENTS BUIL......
PHP Samba Zip nfs-utils Kernel...
Mail Tools for a Hostile Planet
Don't look now, but your mailbox is full of junk, and a snooper is live on a distant server, reading your opinions of your boss. Remember when email used to be easy? To restore some sanity to your correspondence, you'll need the right tools.
A Home-Grown Spam Filter
Even if you do not have a mail server of your own, SpamAssassin can help you filter out unsolicited junk mail. This article describes how SpamAssassin collaborates with Evolution and KMail. Thunderbird, on the other hand, has its own simple spam-detection feature.
Encrypting Email with KMail, Mozilla Thunderbird, and Evolution
The leading email applications include new features for helping users secure and authenticate their mail messages, but each tool has a different approach to handling tasks such as signing and encryption. This article describes how to add encryption and digital signatures to the Thunderbird, Kmail, and Evolution mail clients.
Archiving Email Messages with Hypermail
Hypermail converts email messages to HTML and allows you to group your messages in tidy archives.
The Official Samba-3 HOWTO and Reference Guide Samba-3 By Example: Practical Exercises to Successful Deployment...
The Free Ubuntu Linux Distribution
Linux comes in many packages – from no-charge distributions to expensive enterprise offerings. Ubuntu Linux is somewhere in between – a free Debian derivative with support options for the enterprise.
What's New in GIMP 2.2
The GNU Image Manipulation Program (GIMP) is often called the premium open source image manipulation project. Version 2.0 was released in February 2004, and now GIMP 2.2 is available. This article looks at GIMP's progress over the past year.
Visit Our Shop
Direct Download
Tag Cloud